You are invited to attend the National Indian Council on Aging's (NICOA) 23rd conference on aging in Indian Country. Our American Indian Elders Conference will take place August 1-6, 2021 in Reno, Nevada, at the Nugget Casino Resort.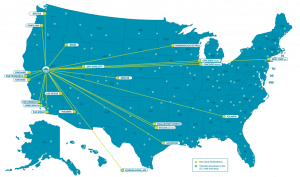 Reno, Nevada has been called "the biggest little city in the world" and is often described as a small Las Vegas. Located in northwestern Nevada near the California state line, Reno is the second largest city in the state.
Boasting more than five million visitors a year, Reno offers a wide range of entertainment and educational attractions. It also makes a great base if you're planning to visit the Lake Tahoe recreational area 45 minutes away, as well as Pyramid Lake to the northeast of the city. Even within the city limits you can expect to find gems like Mount Rose as well as parks, botanical gardens and arboretums.
The Reno-Tahoe International Airport plays host to more than 100 daily flights and nearly two dozen nonstops from all over the U.S., making it a convenient destination for our 2020 conference guests. More than 50 airports nationwide offer either nonstop or one-stop flights to Reno-Tahoe International Airport. With one-stop access through 10 major hubs, visitors to Reno can connect to hundreds of domestic and international destinations, making travel to the region easily accessible. Cities with nonstop flights to Reno include Seattle, Los Angeles, Portland, Boise, Denver, San Francisco, Oakland, Las Vegas, Chicago, New York and more.
Hotel and travel are the responsibility of individual members. There is no government rate; all rooms are $89 per night plus tax.