On July 30, 1965, President Lyndon B. Johnson signed amendments to the Social Security Act creating Medicare and Medicaid which provide medical and health-related services. These programs are divisions of the U.S. Department of Health and Human Services.
What is Medicare?
Medicare is an insurance program for elders and disabled. To be eligible, a person must be 65 years old. Persons under 65 who are disabled or have permanent kidney failure requiring dialysis or a transplant are also eligible.
Part A – Hospital Insurance – Pays for hospital, some home health care, skilled nursing facility care, and medical equipment. Costs are covered by Federal Insurance Contributions Act payroll taxes. Self-employed people also pay into Medicare.
Part B – Supplementary Medical Insurance – Helps pay for doctor visits, outpatient hospital care, and home health care. This voluntary coverage has a monthly premium which is usually deducted from a person's social security check.
Part C – Medicare Advantage Plans – Private insurance companies provide this coverage which vary based on the program and eligibility.
Part D – Prescription Plan – Insurance companies offer these plans for different drugs at different costs.
For more information about Medicare, visit this link.
What is Medicaid?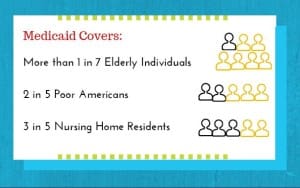 Medicaid is a means-tested health program for low income individuals and families. Each state administers its own Medicaid program and establishes eligibility standards, scope of service, and rates. States must meet federal requirements in order to receive federal matching funds.
For more information about Medicaid, visit this link.