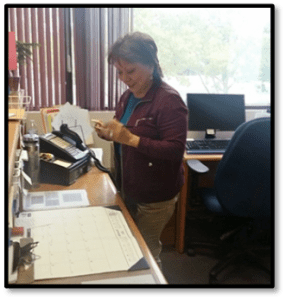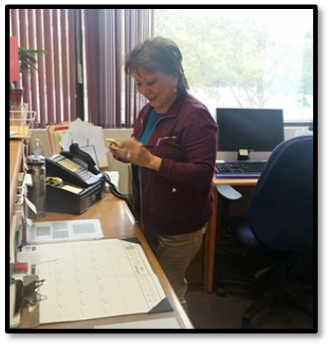 The National Indian Council on Aging, Inc. (NICOA), through the Senior Community Service Employment Program (SCSEP), is part of a network of national organizations and state governments that offer the only federally assisted job training program focused on the needs of low income older adults. SCSEP is authorized by the Older Americans Act Title V and administered through grants from the U.S. Department of Labor. NICOA, which has been a grantee since 1989, was awarded a new competitive grant in 2012. SCSEP fits well within NICOA's overall mission to advocate for improved comprehensive health, social services, and economic well being for American Indian and Alaska Native Elders.
NICOA SCSEP Mission
The NICOA SCSEP mission is to provide opportunity for low income elders through paid training, meaningful community service, and skills development.

Click this link for a printable Senior Community Service Employment Program Fact Sheet.
The goals of SCSEP are to transition participants into unsubsidized employment so that they can achieve economic self-sufficiency, and to promote useful opportunities in community service.
Who is eligible to participate in SCSEP?
Anyone is eligible that is at least 55 years old (there is no upper age limit), unemployed, and who is a member of a family with an income that is not more than 125 percent of the family income levels established by the Federal government (Health & Human Services poverty levels).  Although NICOA has a special purpose in working with American Indian elders, it is not required that applicants be American Indian or Alaska Native (AI/AN) to participate in SCSEP.
Priorities for enrollment include eligible persons who have one or more of the following characteristics:
Veteran or qualifying spouse of a veteran
Age 65 or older
Limited English or low literacy skills
Reside in a rural area
Disabled
Low employment prospects
Failed to find employment through the employment One-Stop System
Homeless or at risk of becoming homeless
How does SCSEP work?
In each of the 8 states served, NICOA SCSEP staff develops written agreements with community service partners (public, tribal or private non-profit community service organizations). Participant eligibility is determined based on federal rules and documentation provided by applicants. Eligible individuals selected are placed in part-time paid training assignments with community service partners.
Host agency partners offer training sites to provide training and supervision for participants who are engaged in assisting these agencies. Length of community service training is determined through NICOA participant assessments by NICOA in accordance with SCSEP rules. SCSEP participants are paid for their hours in community service by NICOA SCSEP grant funds at a rate no less than the federal or state minimum wage, or the prevailing rate for such a position.
Orientation training is provided for partner organizations and participants by NICOA re: SCSEP goals, rules and procedures. Periodic assessments and individual employment plans are created and updated by staff and participants; and training site supervisors are consulted re: participant progress. NICOA SCSEP and host agency partners assist participants to obtain additional training and unsubsidized employment. Participants are rotated to new training assignments to increase their skills and potential for employment. By law, no one can remain a SCSEP participant indefinitely; currently NICOA participants' average time in SCSEP is twenty-five (25) months.

Paid Sick Leave
Workers' Compensation
Annual Physical Examinations
Job-related Counseling
Limited classroom training
On the job training while earning wages at Federal or State minimum wage rate in part-time community service assignments
Potential regular employment outside of SCSEP
Where does NICOA SCSEP operate?
In eight (8) states of Arizona, California, Minnesota, New Mexico, North Dakota, Oklahoma, South Dakota, and Wisconsin.
Headquartered in Albuquerque, New Mexico, with regional offices in Oklahoma City, Oklahoma, and Minneapolis, Minnesota.
Types of Community Service
Service types are quite varied, depending on the skill level of the individual and the needs of the local communities. Some examples are:
Teachers Aides
Literacy Aides
Office Clerical Assistants
Cook's Aides
Library Aides
Day Care Assistants
Maintenance Assistants
Staff
NICOA SCSEP staff is comprised of the national SCSEP director, compliance/records manager, three program managers, three employment specialists, three job developer/trainers, a compliance specialist, one project assistant and the receptionist. In addition, the NICOA payroll specialist and payables specialist commit a majority of their time to SCSEP; and the NICOA executive director and finance director are considered part of SCSEP in proportion to their time spent on the grant. A list of key staff follows:
SCSEP Headquarters:
Susan Chapman, SCSEP Director
Leslie Maly, Compliance/Records Manager
Central Region (MN, OK, ND, SD, WI):
Arnetta Yancey, SCSEP Program Manager
Tonya Harjo (Seminole/Muscogee Creek), SCSEP Assistant Program Manager
Bob Davis, SCSEP Employment Specialist
Paul Durrett, SCSEP Job Developer/Trainer
Southwest Region (AZ, CA, NM):
Theresa Salazar, SCSEP Program Manager
Jose Troncoso, SCSEP Assistant Program Manager
Abigail Pestalozzi-Conley, SCSEP Job Developer/Trainer
This project has been 100% funded by a grant of $3,453,363 from the U.S. Department of Labor, Employment and Training Administration. The contents of this publication do not necessarily reflect the views or policies of the U.S. Department of Labor. If you are interested in this federally funded program and would like additional information, please contact us.