WHAT IS SOCIAL SECURITY?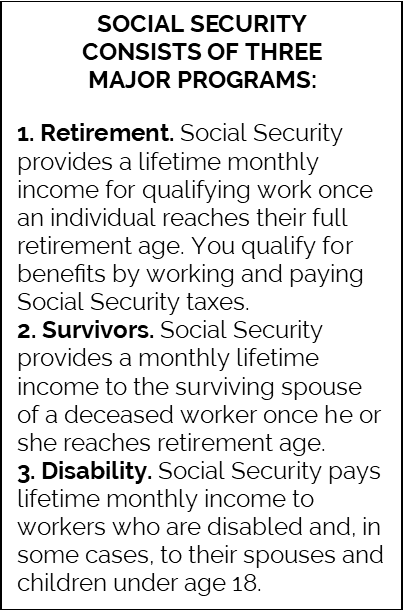 In 1935 President Franklin Delano Roosevelt established the Social Security Act as part of the New Deal. As America struggled to move out of the Depression, this important program provided a segment of the population with a path towards economic security. Today about 166 million people work and pay Social Security taxes and about 59 million people receive monthly benefits. (1)
Social Security monthly benefits help older Americans, disabled workers, and families in which a spouse or parent dies. However, Social Security was never meant to be the only source of income for people when they retire. Social Security replaces about 40 percent of an average wage earner's income after retiring. To have a comfortable retirement, Americans need more than Social Security.
TRIBAL COMMUNITIES AND SOCIAL SECURITY
Currently, the Social Security Administration (SSA) has a Tribal Consultation Office. The office works to improve procedures and communications to address the needs of Indian Country. The SSA is committed to working with Tribal Governments to build strong positive relationships between their agency and Tribal Nations.
The Tribal Consultation Office has created a website to better improve communication and provide information about all of Social Security's programs to American Indians/Alaska Natives (AI/AN). The website provides information about all of the Social Security's programs, online services, and publishes the annual progress report on Tribal Consultation and Coordination outreach. It's important for AI/ANs and tribal leaders to share their needs, feedback, and ideas so that the SSA can better serve them and improve access to services, expand outreach efforts, improve service delivery and strengthen policy consultation.
Historically, access to benefits has proven difficult for many American Indians/Alaska Natives. Therefore, a basic understanding of how Social Security works can help Elders to know their rights and get the benefits they have earned and deserve.
HOW IT WORKS
Social Security is a cash benefit provided by the federal government to all qualifying individuals, regardless of race or ethnicity. The system pays back a percentage of historical earnings on a monthly basis. The system is "progressive" – meaning that low wage earners receive a bigger portion of their contributions back when compared with higher wage earners.
During your working life, you pay into the system with taxes withheld from paychecks. As you pay into the system, "quarters of credit" are earned. Those with 40 credits (which can be earned in as few as ten years of work) can receive Social Security payments when they are eligible to retire under the system.
Currently, credits are earned annually based on income earned in a single year. One credit is currently awarded per $1,260 earned in a year, up to four maximum credits annually.
Full retirement age depends upon the year of your birth, and ranges from 65 to 67.
HOW MUCH WILL I GET? The determination of an Elder's benefit is unique to his or her earnings history. The Social Security Administration reports that among AI/AN Elders, 65 years or older, the average benefit received by men in 2013 was $14,564 per year ($1,213.67 per month). The average benefit women received was $12,207 per year ($1,017.25 per month). (2)
WHO CAN GET BENEFITS?
While the primary purpose of the Social Security system has been to ensure that Elders who had a working career have at least one source of income in retirement, the system has adapted over time to serve other populations.
Survivors: married or divorced spouses, disabled spouses, children, grandchildren, step children, and even dependent parents of a worker may all qualify for survivor benefits. Most importantly for Elders with a deceased spouse, your widow or widower may be able to get full benefits at full retirement age. The full retirement age for survivors is age 66 for people born in 1945-1956. Your widow or widower can get reduced benefits as early as age 60. If your surviving spouse is disabled, benefits can begin as early as age 50. The full retirement age will gradually increase to age 67 for people born in 1962 or later. For more information on widows, widowers, and other survivors, visit www.socialsecurity.gov/survivorplan. (2)
SSA can also make a one-time death payment of $255 when you die, if you've worked long enough. They can only pay this benefit to a spouse or child if they meet certain requirements. Survivors must apply for this payment within two years of the date of death.
Because the SSA has different criteria for each situation, it is advisable to apply for benefits if you think you may qualify or contact the SSA for more guidance. (2)
SOCIAL SECURITY ADMINISTRATION SERVICES:
To apply by phone, 1-800-772-1213
To apply online, visit https://secure.ssa.gov/iClaim/rib
To find a local office, visit https://secure.ssa.gov/ICON/main.jsp
To appeal a decision made by the SSA, call 1-800-772-1213
To estimate your retirement benefits based on your real earnings history, visit http://www.socialsecurity.gov/estimator/
To create an online account that allows quick access to your personal Social Security information visit: socialsecurity.gov/myaccount
For a message from the Social Security Administration's Acting Commissioner and Tribal Consultation Official, please click here.
SOURCES
Desilver, D. (2015, August 18). 5 facts about Social Security. Retrieved October 29, 2018, from http://www.pewresearch.org/fact-tank/2015/08/18/5-facts-about-social-security/
US Social Security Administration, www.socialsecurity.gov