The prevalence of diabetes for American Indian Elders across the United States is almost three times higher than the national average. American Indians and Alaska Natives (AI/AN) suffer from diabetes more than any ethnic group and the disease is increasingly affecting younger Indians, according to Indian Health Service (IHS) records. In some communities, the prevalence rate is as high as 60 percent among adults.
Indian Health Service (IHS) Diabetes Care & Outcomes Audit
Mean A1C 1996-2011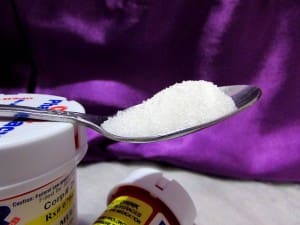 What is Diabetes?
Diabetes is a group of diseases marked by high levels of blood glucose from defects in insulin production, insulin action, or both. Diabetes can lead to serious complications and premature death, but people with diabetes can take steps to control the disease and lower the risk of complications.
Type 1 Diabetes
Type 1 diabetes previously called insulin-dependent diabetes mellitus (IDDM) or juvenile-onset diabetes, results when the body's immune system attacks and destroys its own insulin-producing beta cells in the pancreas. To survive, people with Type 1 diabetes must have insulin delivered by injection or a pump. This form of diabetes usually strikes children and young adults, although the disease onset can occur at any age.
Type 2 Diabetes
Type 2 diabetes previously called non-insulin-dependent diabetes mellitus (NIDDM) or adult-onset diabetes occurs when the body does not make enough insulin or cannot use the insulin it makes effectively. As the need for insulin rises, the pancreas gradually loses its ability to produce it. The following factors increase a person's chances of having Type 2 diabetes: a family history of diabetes, being a member of an ethnic group such as American Indians or Alaska Natives, being overweight or obese, having had diabetes while pregnant (gestational diabetes), having high blood pressure, having abnormal cholesterol (lipid) levels, and not getting enough physical activity.
Gestational Diabetes
Gestational diabetes is a form of glucose intolerance diagnosed in some women during pregnancy, and occurs more frequently among African Americans, Hispanic/Latino Americans, and American Indians. During pregnancy, gestational diabetes requires treatment to normalize maternal blood glucose levels to avoid complications in the infant. Women who have had gestational diabetes have a 20 to 50 percent chance of developing diabetes in the next 5 – 10 years.
Diabetes Prevention
Diabetes can affect many parts of the body and can lead to serious complications such as blindness, kidney damage, and lower-limb amputations. Working together, people with diabetes, health care providers, and support groups can reduce the occurrence of these and other diabetes complications by controlling the levels of blood glucose, blood pressure, and blood lipids, and by receiving other preventive care in a timely manner.
For American Indians & Alaska Natives
On average, American Indians and Alaska Natives are 2.2 times more likely to have diabetes as non-Hispanic whites. About 15.1 percent of American Indians and Alaska Natives aged twenty years and older are receiving care from the Indian Health Service have diabetes. Diabetes is least common among Alaska Natives (8.1 percent) and most common among American Indians in the southern U. S. and southern Arizona (26.7 percent and 27.6 percent respectively).
What American Indians & Alaska Natives can do to prevent heart disease or stroke and other diabetes complications
Diabetes is a self-managed disease. People with diabetes must take responsibility for their day-to-day care. The chances of having diabetes complications can be reduced or delayed significantly by keeping blood glucose (blood sugar), blood pressure, and cholesterol levels in the target range.
The National Diabetes Education Program (NDEP) recommends the following targets for reducing risk of heart disease and stroke for people with diabetes:
A1C (Blood Glucose)
Less than 7 percent
(check at least twice a year)
Blood Pressure
Less than 130/80 mmHg
(check every doctor's visit)
Cholesterol (LDL)
Less than 100 mg/dl
(check once a year)
People with diabetes can manage their disease by eating healthy foods, being physically active, taking diabetes medicine as prescribed, and testing blood glucose levels. Community education and support programs can help people with diabetes and their families to manage their diabetes.
Adapted from National Institute of Diabetes and Digestive and Kidney Diseases. U.S. Dept. of Health & Human Services, National Institute of Health, 2005.
 Learn more about diabetes
Diabetes Prevention and Control (PDF)