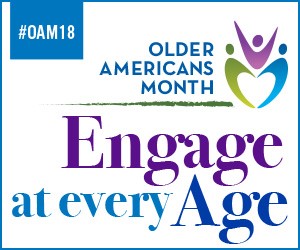 May is Older Americans Month, and has been for the past 55 years. This year the theme is Engage at Every Age, as the Older Americans Month website states, "Engage at Every Age, emphasizes that you are never too old (or young) to take part in activities that can enrich your physical, mental, and emotional well-being. It also celebrates the many ways in which older adults make a difference in our communities." (1)
Older Americans Month also states, "Across the country, older Americans – a rapidly growing population – are taking part in activities that promote wellness and social connection. They are sharing their wisdom and experience with future generations, and they are giving back to…enrich their communities. They're working and volunteering, mentoring and learning, leading and engaging." (2)
It is becoming more apparent that remaining socially engaged can improve the quality of life for older adults. The National Indian Council on Aging (NICOA) will use Older Americans Month 2018 to focus on how older adults are engaging with friends and family, and through various community activities. Throughout the month, NICOA will conduct activities and share information designed to highlight NICOA SCSEP participants. For example, each Thursday in May NICOA will be sharing SCSEP Success Stories, featuring a SCSECP participant, their work, and their experience in the program. We look forward to sharing our SCSEP Success Stories with you, and we also encourage you to get involved by recognizing elders in your communities!
To view our blogs, including SCSEP Success Stories, visit www.nicoa.org/nicoa-news/
About NICOA SCSEP
NICOA, through SCSEP, is part of a network of national organizations and state governments that offer a federally assisted job training program focused on the needs of low income older adults. SCSEP is authorized by the Older Americans Act Title V and administered through grants from the U.S. Department of Labor. NICOA, which has been a grantee since 1989, is an agency serving American Indian elders with funds set aside specifically to serve that population.  SCSEP fits well within NICOA's overall mission to advocate for improved comprehensive health, social services, and economic well-being for American Indian and Alaska Native Elders.
The goals of SCSEP are to transition participants into unsubsidized employment so that they can achieve economic self-sufficiency, and to promote useful opportunities in community service.
For more information on NICOA SCSEP visit https://nicoa.org/for-elders/economic-well-being/job-training-for-older-adults-scsep/
How to Participate in Older Americans Month:
Join the Administration for Community Living (ACL) and the Administration on Aging (AoA) in celebrating by participating the Selfie Challenge! They want to see how you're engaging. Simply take a selfie (or have someone take your photo) and tweet it with the hashtag #OAM18
Connect with Older Americans Month by visiting their website at acl.gov, follow the ACL on Twitter and Facebook, follow the AoA on Twitter and Facebook, follow NICOA on Twitter, Facebook, and Google+
Learn more about the NICOA SCSEP program website or by calling NICOA at 505-292-2001
Visit the Older Americans Month activity webpage for ideas

Sources
Administration for Community Living. (n.d.). Older Americans Month 2018. Retrieved May 4, 2018, from https://oam.acl.gov/index.html
Administration for Community Living. (n.d.) Sample Article: Older Americans Month 2018. Retrieved May 4, 2018, from https://oam.acl.gov/2018/materials.html