The National Indian Council on Aging (NICOA) is governed by a 13-member board of directors composed of American Indian and Alaska Native elders representing each of the 12 Bureau of Indian Affairs regions, as well as a representative of the National Association of Title VI Grantees. The regions are: Alaska, Eastern, Great Plains, Midwest, Navajo, Northwest, Eastern Oklahoma, Pacific, Rocky Mountain, Southern Plains, Southwest and Western.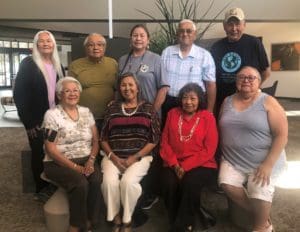 The roles and responsibilities of board members include: (1) ensuring the organization's mission and purpose are realized; (2) supporting and evaluating the executive director's performance; (3) ensuring the organization has adequate resources through fundraising to carry out its mission; (4) monitoring the allocation of these resources and ensuring the legal and ethical integrity of the organization; (5) representing the organization at local, regional and national events; (6) working cooperatively with fellow board members to proactively represent the elders from the area in which they were elected; and (7) avoiding conflicts of interest between the work of NICOA and other organizations to which they belong.
Board members must be 55 years of age or older and an enrolled member of an American Indian or Alaska Native tribe. New board members are voted in by regional caucuses at NICOA's biennial conference, and all board members elect the executive board.
Interested in joining us? We're looking for a Rocky Mountain Region Representative as well as a representative of the National Association of Title VI Grantees.
Sisseton-Wahpeton Oyate of the Lake Traverse Reservation
Great Plains Region
2018-2022
Rocky Mountain Region
VACANT
Title VI Assistant
VACANT