The National Indian Council on Aging, Inc. (NICOA) is a 501(c)(3) nonprofit organization founded in 1976 focused on the needs of aging American Indian and Alaska Native elders. For nearly 45 years, we have worked to ensure the best for our American Indian and Alaska Native elders, their families, and communities. We are committed to providing services for Native elders, but the power to provide starts with you.
There are a number of ways to make financial contributions to NICOA and we've made it more convenient than ever for you to help. Here is a quick look at the types of financial contributions and how you can make them.
NICOA is listed on Network for Good, Inc., a Delaware nonprofit corporation and a Section (501)(c)(3) tax-exempt organization (EIN: 68-0480736). GoFundMe is another safe option (they provide donor protection guarantee).
AmazonSmile donates 0.5 percent of the price of your eligible purchases to the charitable organization of your choice. By clicking on the banner to the right, you will be taken directly to smile.amazon.com in support of NICOA (so you don't have to search for us among almost a million other organizations). NICOA will then be credited a percentage of every dollar you spend.
Consider donating to us directly to help us with our mission to improve the lives of American Indian and Alaska Native elders. Without your support we would not be able to assist tribal communities and provide the valuable services we do. Don't be left behind by other tribes and organizations; send in your support now, any amount makes a difference.
Your financial support will go directly to support our mission to improve health, social services and economic well-being for all American Indian and Alaska Native elders. All donations made to NICOA are tax deductible, per IRS.
By Mail
National Indian Council on Aging
8500 Menaul Blvd NE
Suite B-470
Albuquerque, NM 87112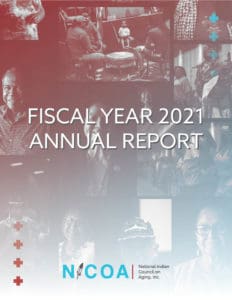 Poarch Band of Creek Indians
$50,000
(Matching Funds)
Quinault Indian Nation
$10,000
Jamestown S'Klallam Tribe
$5,000
The Tulalip Tribes of Washington
$1,000
Barona Band of Mission Indians
$1,000
Sisseton Wahpeton Oyate
$5,000
Suquamish Indian Tribe
$1,000
U.S. Eagle Federal Credit Union
Wells Fargo
$400,000 (multi-year grant)
Mackenzie Scott Foundation
$4,000,000
Individual Donors
$50 | William and Linda Straff | June 2020
$100 | Elizabeth Tudor | June 2020
$50 | Kathleen Anderson | June 2020
$10 | Michele Bright | June 2020
$100 | Sasha Helton | June 2020
$8.33 | Dara Lyn | June 2020
$5.55 | Dara Lyn | April 2020
$3.34 | Dara Lyn | March 2020
$13.19 | Dara Lyn | March 2020
$16.67 | River Watson | March 2020
$100 | Anonymous | January 2020
$100 | Jenna McDavid | January 2019
$300 | NICOA Board Member Lucia Trujillo | December 2019
$100 | Jenna McDavid | December 2019
$50 | Diane Mapes, in honor of Harlan Jay Pigsley | December 2019
$100 | Bob Hartje | December 2019
$1.96 | Leslie Maly | October 2019
$25 | Leslie Hastings in honor of Toby | September 2019
$100 | Ann-Rader Tate | December 2018
Adele Mihesuah
Debra L. Barnard
Dorinda Fox
Michael Parks
Randella Bluehouse
Robert Morgan
Sue Chapman