The Federal Trade Commission (FTC) is getting more reports about people pretending to be from the Social Security Administration (SSA) calling to get Social Security numbers and even money. Fraudulent calls are quickly becoming more frequent. Nearly half of all calls to mobile phones are a scam, according to a report from telecommunications firm First Orion. The company analyzed data from more than 50 billion calls over 18 months to get an idea of what they're calling the "scam-call epidemic". In 2017, 3,200 people reported SSA imposter scams, and lost nearly $210,000, according to the FTC. Government imposter scams made up nearly half of the 535,417 imposter scams reported to the FTC in 2018.
Mobile-originated scams are up over 400 percent from 2017 to 2018. In 2017, only 3.7 percent of calls to cell phones were fraudulent. In 2018 that number reached 29.2 percent and climbed to 44.6 percent in 2019.
One popular tactic is "neighborhood spoofing," in which calls show up as local numbers on your caller ID by matching the first six digits of your number. The report estimates that nine in 10 scam calls will come from a familiar area code this year.
The report also shows that scam calls originating from landlines are decreasing. Not only do fewer people use landlines, but mobile scammers have become more technologically sophisticated. This year only 24.8 percent of scam calls are predicted to come from landlines — a decrease from 56 percent in 2017.
The financial repercussions from these scam calls can be serious. The Federal Trade Commission (FTC) reports that the median loss from a phone-based scam in 2017 was $429. Compare that to a $500 median loss to imposters, a $720 median fraud loss to scams that come in by phone, and a $1,710 median loss related to travel, vacations and timeshares. Among military consumers, median losses were higher than the general population — $619.
Consumers reported losing substantially more money to imposter scams — a total of $328 million — than any other type of fraud. Imposter scams involve someone pretending to be a government official, technical support representative, or a loved one in trouble. Nearly one in five consumers who reported an imposter scam indicated they lost money to the fraud.
In a 2017 FTC report, consumers in their twenties reported losing money to fraud more often than those over age 70. For example, among people aged 20-29 who reported fraud, 40 percent indicated they lost money. In comparison, just 18 percent of those 70 and older who reported fraud indicated they lost any money.
However, when elders did report losing money to a scammer, the median amount lost was greater. The median reported loss for people age 80 and older was $1,092 compared to $400 for those aged 20-29.
The rise of illegal robocalls has garnered the attention of both lawmakers and consumers alike. In 2017, the Federal Communications Commission prioritized an initiative to end illegal robocalls and adopted a new set of rules designed to protect consumers from unwanted robocalls, allowing phone companies to proactively block calls that are likely fraudulent because they originate from certain types of phone numbers.
To avoid becoming a victim, familiarize yourself with common scams, such as calls from people claiming to work for the IRS or your credit card company. If you spot any scams, report them to the FTC.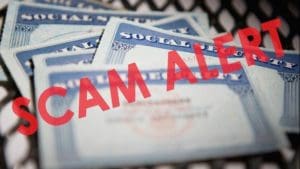 In one version of the scam, the caller says your Social Security number has been suspended due to suspicious activity, or that it's been linked to a crime involving drugs or sending money out of the country illegally. The caller says your Social Security number is blocked and that they need a fee to reactivate it or to get a new number. The scammer will ask you to confirm your Social Security number. Remember, Social Security numbers are never suspended and the SSA never requires you to pay for one.
In other variations, the caller says that someone used your Social Security number to apply for credit cards and now your benefits are in jeopardy. They may warn that your bank account is about to be seized, that you need to withdraw your money, and that they can tell you just how to keep it safe.
The scheme's details may vary. Scammers may claim that the SSA needs additional information to increase your benefit payment or send a rebate. They might say your personal information was lost due to a computer glitch. They may threaten to terminate your benefits if information remains unconfirmed. To hear what an SSA scam call sounds like, click here.
Beware: Your caller ID may even show the real SSA phone number (1-800-772-1213), but it's not the real SSA calling! Computers make it easy to show any number on caller ID. Don't trust what you see.
Remember, the SSA will never call and ask for your Social Security number. It will not ask you to pay anything. It will not threaten your benefits.
Never give your Social Security number to anyone who contacts you in this way. Do not confirm the last four digits. Do not give a bank account or credit card number to anyone who contacting you by phone. Remember that anyone who tells you to wire money, pay with a gift card, or send cash is always a scammer no matter who they say they are.
If you're worried about a call from someone claiming to be from the SSA, get off the phone and call the real SSA at 1-800-772-1213. You could also call the Office of the Inspector General at 1-800-269-0271. If you spot a scam, tell the FTC.