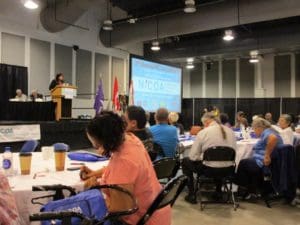 NICOA members submit resolutions which are presented and voted on by all members attending our Aging Conferences every other year. Resolutions that are passed are passed on to the National Congress of American Indians (NCAI) for presentation to the appropriate Federal Government Agencies. Please download the individual NICOA Resolutions by clicking below.
NICOA Resolutions Approved at the 2016 Conference in Buffalo, NY
NICOA Resolution 2016-01 – Traditional Foods in Public Facilities
NICOA Resolution 2016-02 – NIHB Budget Recommendations
NICOA Resolution 2016-03 – Youth Community Project
NICOA Resolution 2016-04 – Elder Abuse Prevention
NICOA Resolution 2016-05 – Tribal Law Order Reauthorization
NICOA Resolution 2016-06 – ND Access Pipeline
NICOA Resolution 2016-07 – Michigan Pipeline Shutdown
NICOA Resolutions Approved at the 2014 Conference in Phoenix, AZ
NICOA Resolution 2014-02 – Gerontology and Geriatric Research to Benefit AI-AN Elders Tribes
NICOA Resolution 2014-03 – Medicaid Asset Recovery Exemption for AI – AN Elders
NICOA Resolution 2014-04 – Elders Call for a National American Indian Alaska Native Hearing on Aging
NICOA Resolution 2014-05 – Elders Oppose Cuts in Title V Funding
NICOA Resolution 2014-06 – Elders Request Comparable Equity between Title III State Services and Title VI Tribal Services
NICOA Resolution 2014-07 – Elders Request Long Term Care Funding
NICOA Resolution 2014-08 – Elders Support Dental Therapy for all American Indian Rural Areas
NICOA Resolution 2014-09 – Elders Support Medicaid Expansion for Every State
NICOA Resolution 2014-10 – Elders Support the Reauthorization of the Older Americans Act
NICOA Resolution 2014-11 – Elders Support the Social Security Administration Accountability Act of 2014
NICOA Resolution 2014-12 – Elders Support the Supplemental Social Security Restoration Act
NCAI Resolutions
National Congress of American Indians Resolutions (NCAI). The resolutions below were adopted by the General Assembly at the 2014 Annual Session of the National Congress of American Indians, held at the Hyatt Regency Atlanta, October 26-31, 2014 in Atlanta, Georgia, with a quorum present.
NCAI Resolution ATL-14-055 – Gerontology and Geriatric Research
NCAI Resolution ATL-14-056 – Medicaid Asset Recovery Exemption
NCAI Resolution ATL-14-059 – Request for Comparable Equity between Title III State Services and Title VI Tribal Services
NCAI Resolution ATL-14-057 – Support for National AI and AN Hearing on Aging
NCAI Resolution ATL-14-062 – Support Medicaid Expansion for Every State
NCAI Resolution ATL-14-065 – Support Modernization Legislation of the SSI Program
NCAI Resolution ATL-14-064 – Support SSA Consultation with Tribal Offices
NCAI Resolution ATL-14-063 – Support Reauthorization of OAA