There are between 6,000-7,000 oral languages spoken worldwide. According to the United Nations, approximately 600 of them have disappeared in the last century. They're disappearing at a rate of one language every two weeks. No less than 40 percent of languages spoken in 2016 were in danger of disappearing, many of them indigenous.
Presently, we're in danger of losing 2,680 languages. The UN predicts that 50-90 percent of indigenous languages will disappear by the end of this century, being replaced with English, Mandarin or Spanish. Any language spoken by less than 10,000 people is in danger.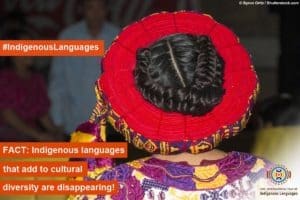 In 2016, the UN proclaimed 2019 to be the International Year of Indigenous Languages with the aim to raise awareness of indigenous languages to benefit those who speak them and teach those who don't about the contributions they make to world. According to the 2019 International Year of Indigenous Languages, "the International Year is both an important mechanism for international cooperation and a year-long celebration."
About 97 percent of the world's population speak only 4 percent of its languages, while only 3 percent of the world speaks 96 percent of all languages. Most of these languages are spoken by indigenous people. There are 370-500 million indigenous people in the world, 5,000 different indigenous cultures and 90 countries with indigenous communities.
Language isn't just a tool for communication. It defines identity, expresses and preserves history, memory and culture. The 2019 International Year of Indigenous Languages says "Language is pivotal in the areas of human rights protection, good governance, peace building, reconciliation, and sustainable development." Despite their value, they continue to disappear at a rate of one language every two weeks. If this pace continues, up to 90 percent of the world's languages are likely to disappear before the end of this century.
The loss of these languages places the indigenous cultures and knowledge systems to which those languages belong at risk. It is likely to have negative impacts on politics, law, justice, health, culture and education. There are many language initiatives and revitalization efforts being led by indigenous people around the world. The UN is working with governments, indigenous peoples' organizations, researchers and other stakeholders to fulfill an action plan which sets out the path to achieving the objectives of the International Year.