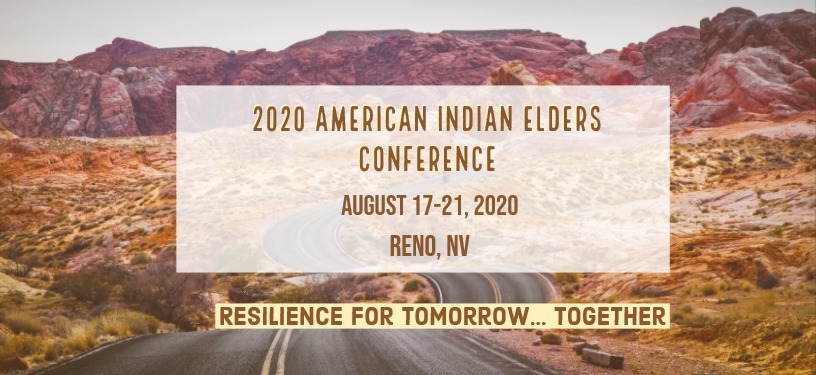 You are invited to attend the National Indian Council on Aging's 23rd conference on aging in Indian Country. Our 2020 American Indian Elders Conference will be August 17-21, 2020 in Reno, Nevada at the Nugget Resort & Casino. NICOA will be partnering with the 2020 National Title VI Training & Technical Assistance Conference, held at the same time and place.
NICOA's biennial conferences benefit our 300,000 elders as well as the entire American Indian and Alaska Native population from all 574 tribes. The conference consists of educational presentations from tribal, state and federal organizations as well as a diverse network of aging service partners that provide information and updates on aging services, health care, civic engagement and economic development in Indian Country.
The theme for NICOA's 2020 conference is "Resilience for Tomorrow… Together." Additionally, 2020 will be a major election year and NICOA's conference will offer the opportunity to elevate issues in American Indian politics and legislation. The conference will also focus on issues such as health, safety, financial management, elder abuse, caregiving, employment, retirement, and the Older Americans Act.
If you're interested in presenting at the conference, complete the proposal form and send in a brief description of your proposed presentation (no more than 150 words each) along with a brief biography (no more than 150 words) before the deadline of March 31, 2020.
Registration for conference attendees begins January 1, 2020. Pricing is based on your 2020-2021 membership type, which is now available for purchase. Apply or renew your membership online or via mail or fax.
$150 per person for Voting Members: Any person age 55 or older and is a member of a federally recognized tribe (must provide a copy of Certificate of Indian Blood or tribal registration letter).
$250 per person for Associate Members: Any person that is not a tribal member and under age 55.
$500 per person for Organization Associate Members: Any one person that is representing an organization, government agency, tribe, nonprofit, etc.
Caregivers do not pay a membership fee but must provide the name of the elder accompanying them, and the elder must provide the name of their caregiver.
Early Bird Registration is from January 1-February 29, 2020.
Regular Registration (an increase of $25 from Early Bird) is from March 1-June 30, 2020.
Late Registration (an increase of $25 from Regular) is from July 1-31, 2020.
After July 31 Registration (an increase of $25 from Regular) are paid at the Late Registration rate and must be done on-site at the conference location.
For questions, or to request an invoice, email Cheryl Archibald or call (505) 292-2001.
ATTENDEE
Membership Type
EARLY BIRD
January-February 29
REGULAR
March 1-June 30
LATE
July 1-31, 2020
AFTER
July 31, 2020
MUST PAY ONSITE
Voting Member Caregiver
$200
$225
$250
$250
Caregiver for (Elder's Name)
$300
$325
$350
$350
Associate Member
$350
$375
$400
$400
Organization Associate Member
$500
$525
$550
$550
Non-Member
$650
$675
$700
$725
The online pricing is 5 percent higher than the regular pricing because there is a credit card processing fee added to all credit cards. No cash will be accepted. NICOA will accept checks by mail or in person.