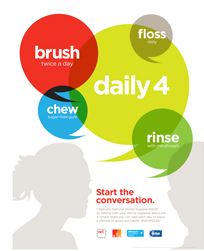 There are so many reasons to smile! This month the American Dental Hygienists Association celebrate National Dental Hygiene Month. They recommend talking with your dental hygienist about the four simple steps you can take each day to enjoy a lifetime of good oral health called 'The Daily 4″.
The Daily 4 represent the foundation for healthy smiles. Incorporating these steps into a regular oral health routine can have a significant impact on oral and overall health. Proper technique is key!
Brush. For optimal health, brush two minutes two times per day helps reduce biofilm and prevent cavities, gingivitis and other biofilm-related diseases.
Floss once a day.
Rinse. Because teeth alone account for less than half of the mouth, using an antimicrobial mouth rinse helps eliminate biofilm and bacteria that brushing and flossing cannot tackle.
Chew. Chewing sugar-free gum after meals and snacks helps protect teeth and complements a healthy oral care routine. Chewing stimulates the salivary glands which helps clean out food particles and neutralizes biofilm acids on the teeth.
You can visit the National Dental Hygienists Association for step-by-step health guide on the Daily 4.