Yolanda Harrison, central region employment specialist with the National Indian Council on Aging's (NICOA) Senior Community Service Employment Program (SCSEP), shares her experience visiting Denver host agencies.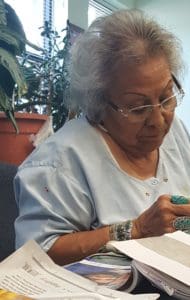 During my recent trip to Colorado I was excited to meet with three new organizations who are interested in becoming host agencies with NICOA. My main focus was to partner with them to help us train and prepare elders for employment in their own communities.
I met with elders and gave them each a goodie bag which included an educational outreach packet on health, social services and economic wellbeing, as well as a NICOA T-shirt, stress balls, hand sanitizers, pens and lip balm. They loved the gifts and were very happy that NICOA acknowledges and treats their elders very well. It was a pleasant visit with each and every one of them. You don't realize how happy little items make people feel.
During my first day in Denver, I met with participant Brenda Mitchell and supervisor Johnny Worth at Denver Indian Health. They made me feel right at home. My flight was delayed so I emailed and asked if they could meet me an hour later. They agreed as long as I bought them ice-cream! I agreed and stopped at McDonalds and got them each a sundae. When I arrived their ice-cream was half melted but you can't blame me for trying! They ate it anyway and were very pleased.
The following day I hosted a booth at the Denver Indian Center Senior Luncheon. I was able to speak with elders and receive applications for the SCSEP program. I also chatted with the new director of the Denver Indian Center. There was a luncheon, after which I was able to spend some time visiting with the elders at the Denver Indian Center. It was an awesome visit. I got to meet a puppy name Baron who belongs to one of the elders. He is so cute. I had fun with him, we played a little and I tried to put him in my backpack to bring him home. However, it did not work as he stuck his head out and I was busted!