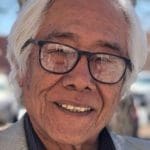 Another season has ended and another one is beginning. This is how it has been from the beginning of time. Winter is on the horizon, and this is the time to get prepared for the cold that accompanies it. It is also time for the flu shots and if the federal government decides, our third COVID-19 booster shot.
We at the National Indian Council on Aging (NICOA) strongly encourage our tribal elders to get the shot and our tribal leaders to ensure that our elders are protected from this pandemic. They must also encourage their elders and tribal members to take the shot now that the Centers for Disease Control (CDC) approved a third booster for those over the age of 65. According to the CDC, Indian Country has lost over 7,000 American Indian and Alaskan Natives since the beginning of this pandemic. Of this number, over 80 percent of these deaths were among those over the age of 50. This is alarming and troubling as this age cohort represents tribal history, traditions, customs and language.
NICOA, along with other national aging organizations, realized that this pandemic has had additional negative outcomes as well: Social isolation and the physical and mental stresses felt by those who provide care to elders and their family members. As close tribal communities, the strain is felt by staying home, maintaining social distances and staying away from large crowds. Mental health is affected with depression, anxiety and loneliness increasing among elders. There is a need among tribal communities to reach out and safely connect to those elders. NICOA's efforts have been to provide information and resources to Indian Country through videos, radio messages and online articles. This has been the result of funding made available to NICOA to try to stem the tide of this outcome.
Finally, as Indian Country tries to battle these issues, there are other problems that are occurring that become background scenarios to what is in the foreground. In the western part of the country, the raging wildfires are impacting Indian people, threatening their homes and lives. On the coast, tribal communities are having to relocate tribal members as ocean levels rise. In the southeast part of the country, communities are flooded by abnormal storms that have dropped, in some locations, up to 20 inches of rain in a 24-hour period.
Additionally, there is a major political effort to ensure that voting rights are suppressed. This will affect the ability of Indian people to express their views. Major legislation designed to help historically marginalized communities has become a focus. In these battles, NICOA has been an "once more into the fray" organization to express the needs of our elders.
Indian Country: Be assured that NICOA will continue to fight on behalf of tribal governments, tribal communities and tribal members, no matter where they are, as we have for the past 45 years. We need your help, your prayers and support to do this. Remember that you are not alone.