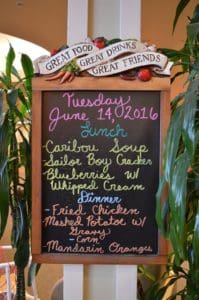 NICOA is pleased to share the following article written and posted with permission by Melissa A. Chlupach, MS RD LD. Ms. Chlupach is the regional healthcare dietitian for NANA Management Services Northwest Alaska, and chair of the Seal Oil Task Force. She writes about how her task force is initiating a return to traditional foods to serve their patients in Alaska's Tribal Health System, in a safe, tasty, and meaningful way.
*******************************************************************
We are celebrating the one-year anniversary of the Seal Oil Task Force!  As described by Chris Dankmeyer in the Alaska Environmental Health Association's blog https://aehablog.wordpress.com/2016/04/29/seal-oil-team-6/, this "elite team of health professionals and researchers have been meeting regularly to discuss the topic of seal oil."  Seal oil is Alaska's condiment or 'holy grail'. However, it is a prohibited to offer in public facilities according to the DEC's Alaska Food Code. The task force is working together with the hope that one day this delicacy can be offered in Alaska's public facilities.
Maniilaq Association provides health, tribal and social services to residents of Northwest Alaska. A non-profit corporation, Maniilaq Association represents 12 federally recognized tribes. Maniilaq is paving the way with the Maniilaq Seal Oil Project.  Dr. Eric Johnson, a specialist in botulism from the University of Wisconsin is interested in working with the team to study the entire traditional rendering process in Kotzebue from start to finish.  In fact, there are plans for Dr. Johnson to travel to Kotzebue in August as an introduction to the area and the team, and then hopefully, another trip in for a fall seal hunt to see the process.  I'm hoping we can talk him into looking at other traditional rendering processes, such as in Southeast.  It's a great opportunity for our people.
Siglauq is Maniilaq's traditional foods processing facility which has been open just over a year. Now Elders at Utuqqanaat Inaat can enjoy the taste of their traditional foods.  This has definitely been hugely positive for the elders and the staff at Utuqqanaat Inaat.  It was also well received when CMS surveyors visited the facility last December.  This is very promising for other facilities, not only in Alaska, but throughout the rest of the United States.
I am also happy to announce the State of Alaska's new traditional food website  http://dec.alaska.gov/eh/fss/food/traditional_foods.html . It includes requirements, resources, helpful Alaska links and in the news.  This will help folks throughout the State understand more about traditional foods and the donation process/regulations.
Below are further articles that may be of interest, including the last article which discusses the possibility of a solar-powered freezer for our villages designed for cold climates.
http://food-management.com/menu-trends/traditional-alaskan-foods-bring-healing-power-hospital-menu
http://anthc.org/news/anmc-serves-healing-traditional-foods-to-our-people/
http://www.adn.com/features/article/renown-alaska-native-healer-rita-blumenstein-hopscotches-old-world-new/2013/07/23/
http://www.splendidtable.org/story/the-sioux-chef-is-helping-bring-a-native-american-food-culture-into-the-modern-world
http://www.cbc.ca/news/canada/north/sanikiluaq-nunavut-solar-powered-community-freezer-1.3665998?cmp=rss