During Older Driver Safety Awareness Week, consider what physical challenges can be compensated for by utilizing equipment, adding to a driver's safety and confidence.
If neck turning is limited or painful, a wide-angle mirror may offer a solution. If foot pedals are harder to manage when diabetic changes have resulted in partial amputation, hand controls can offer a safe alternative.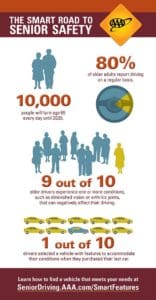 Adaptive driving equipment can help bridge the gap between individual needs and standard automobiles. The American Occupational Therapy Association has more examples of adaptive equipment:
Low-effort steering: Modification to the power steering system that reduces the effort required to turn the steering wheel, which is helpful for those with painful arthritic shoulders and limited flexibility.
Ribbon attached to seatbelt: A simple adaptation that allows the driver or passenger to pull the seatbelt across the body without twisting and reaching behind the shoulder.
Hand controls: Adaptive equipment allowing drivers to control the accelerator and brake functions with their hands.
Handybar: Removable grab bar that hooks onto the door latch to give the driver something to hang on to when transferring into and out of the vehicle.
OnStar: Subscription system using wireless and GPS technology to offer navigation services in case the driver becomes lost, emergency services assistance (including an automatic alert to first responders in the event of a crash), and other safety options.
Extra or extended mirrors: Add-on or replacement mirrors to help broaden peripheral vision and expand the field of view to minimize head turning.
Swing-out seat: A replacement seat with a swivel base that extends the seat beyond the car threshold so drivers don't have to maneuver around the steering column to get in and out.
Siren detector: An electronic device that detects the high-decibel sound waves of an ambulance or fire truck and alerts drivers who have a hearing impairment.
Bioptics: A system in which a small telescope is attached to prescription eyeglasses that allows a driver with very low vision to be able to drive by glancing briefly and intermittently through the special lens. Note: Locate a specially trained low vision specialist trained in bioptics and driver rehabilitation before considering this option. Laws for licensing drivers using bioptics varies by state.
Tire pressure sensors: Electronic sensors that let the driver know when air pressure is low, which can help prevent a flat tire from a slow leak or loss of vehicular control due to under-inflation.
Traction control sensors: Add-ons to an antilock brake system that can improve traction when the driver is accelerating too quickly or on a wet surface.
Back-up camera: A wireless system that projects the view from the rear of the car onto an LED screen that can be mounted on the dashboard or windshield so the driver doesn't have to turn around to see what is behind the vehicle.
Seat cushions: Round swivel seat cushions turn 360 degrees to help drivers and passengers rotate in and out of the vehicle. Other types of cushions can help relieve back pain. Safety alert: Any cushion may also pose a safety risk. The cushion placed on the driver's seat could compress in the event of a crash, creating space that allows the driver to slip forward under the now loose seatbelt.
Foot pedal extensions: Professionally installed pedal extenders allow better, more comfortable reach of the accelerator and brake pedals without causing the driver to position the seat dangerously close to the steering wheel.
Older drivers experiencing physical challenges can work with driver rehabilitation specialists certified through the American Occupational Therapy Association or the Association for Driver Rehabilitation Specialists. They can do an assessment and recommend individualized adaptations, as well as teach drivers how to use recommended devices.