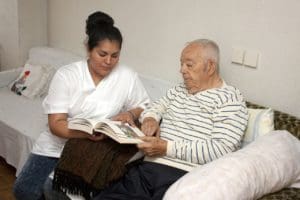 The Alzheimer's Association, NM Chapter, in collaboration with the Southern Area Health Education Center, is hosting the following workshops for Spanish speaking families facing Alzheimer's disease and dementia in southwest New Mexico.
"Cuidando con Respeto" is a FREE course presented in Spanish and provides the same helpful information as the popular "Savvy Caregiver Program," but is designed for Spanish-speaking families and caregivers. It is a complete cultural translation of the Savvy program, with sensitivity to the values and customs of Spanish-speaking families in New Mexico.
The two day, 9-hour workshop will meet from 9:00am to 1:00pm on Thursday, April 27th and 9:00am to 1:00pm on Friday, April 28th at the Southern Area Health Education Center, 4003 Geothermal Drive, Las Cruces, NM 88011.
To register, please contact Lori (575) 646-4887 or Ana Luisa (575) 646-3061. Refreshments and snacks will be provided.