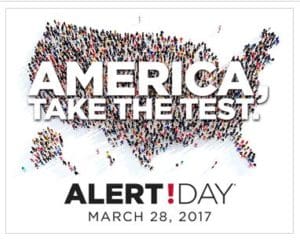 Held March 28, 2017, American Diabetes Association Alert Day is a day to sound the alarm about the prevalence of type 2 diabetes in American adults by asking America to take the American Diabetes Association Type 2 Diabetes Risk Test.
The free, anonymous risk test is available online or via a one-sided handout, and only takes a minute to complete. With questions such as "Do you have a family history of diabetes" and "Are you physically active," participants can learn if they're at risk for type 2 diabetes in 60 seconds. Nine out of 10 Americans most at risk for Type 2 diabetes don't know it. Take 60 seconds to find out if you're one of them. Knowing your risk is the first step toward a healthier life.
If you've been newly diagnosed with Type 2 diabetes you can receive your FREE information packets from the American Diabetes Association that includes 5 info packets on how to live well with diabetes, tasty and healthy recipes for you and your family, a monthly e-newsletter with tips, stories and resources, 6 free issues of Diabetes Forecast magazine, access to an online community and more.
Eating breakfast has shown to help boost metabolism, which means your body does a better job managing your weight. But whether you're a student, parent, or working professional, your busy schedule might keep you from eating a balanced breakfast in the mornings. How to Plan a Healthy Breakfast to help manage your diabetes.
You can learn how to lower your risk and share vital health saving information with your family and friends. Go to The American Diabetes Association to learn more.