Originally published on the Arthritis Foundation website, this article provides helpful tips on dealing proactively with arthritis.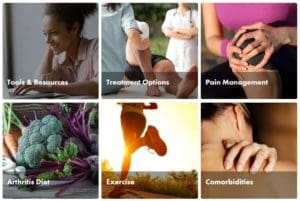 If you've been diagnosed with arthritis, you'll probably have several healthcare professionals involved in your care. But the most important part of your healthcare team is you. Simply put, self-management of arthritis is what you do to manage your disease.
Self-management is about making positive and healthy lifestyle choices, and acknowledging and addressing the physical and emotional effects of arthritis. Having arthritis affects everyone differently, so it's up to you to learn and practice what helps you to live well and thrive.
Through self-management, you can make a big difference in how much arthritis affects your quality of life so you can continue to say Yes to the things that are important to you.
Being diagnosed can be a lot to handle but rest assured, you can do it. Learn all you can about your disease. Make your doctor your partner in care and maintain an open line of communication. Pay attention to your emotions and develop a support network of family, friends and colleagues. Determine what you may need to change (whether its activities, diet, exercise or stress level). Make a plan (with your doctor), write it down and ask your support network to help you keep on track.
Here are six important self-management habits that can help you successfully manage your disease:
Be organized
Take charge of your treatment plan by keeping track of symptoms, pain levels, medications, and possible side effects so together with your doctor, you can determine what works best for you.
Manage pain and fatigue
It's important not to allow pain and fatigue to become overwhelming. You can combine your medication regimen with non-medical pain management techniques. Similarly, fatigue is a common problem that can be caused by the underlying disease process or the stress of living day to day with the pain and limitations of a chronic disease. Learning and using natural therapies to manage fatigue is key to living well with arthritis.
Stay active
Even though it might seem like the last thing you want to do when you're in pain, exercise is beneficial for managing arthritis and your overall health. It can strengthen muscles that support your painful joints, preserve and increase joint range of motion, improve sleep quality, boost your mood and sense of well-being and help you lose excess pounds that add stress to painful joints.
Balance activity with rest
Rest is important when your disease is active and your joints feel painful, swollen or stiff. Lighten your schedule and obligations and ask for help when you need to. Pace yourself throughout your day and take breaks to conserve energy.
Eat a healthy balanced diet
A healthy diet, when combined with exercise, can help you achieve and maintain a healthy weight. Also, adding foods with anti-inflammatory properties and that are rich in antioxidants can help control inflammation.
Improve Sleep
Poor sleep habits can worsen arthritis pain and fatigue, but there are things you can do to help you fall asleep and stay asleep. Make your bedroom dark, cool and quiet, avoid caffeine or strenuous exercise in the evening, and wind down with a warm bath or practice relaxation techniques before bedtime. Still have trouble sleeping? Talk to your doctor about a change in or timing of your medication or other ways that may improve your sleep.
If you invest in yourself and recognize your responsibility – and ability – to take good care of yourself, you can live well with arthritis. You'll need to make adjustments, but make sure your goals are realistic, even if they involve only small steps right now.
No one can take care of you better than you can. For further information and resources check out living with arthritis.