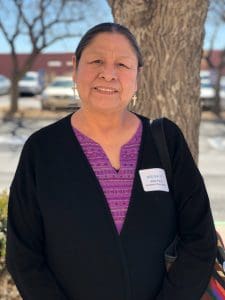 Billie Tohee, of the Otoe-Missouria Tribe of Indians in Oklahoma and the Iowa Tribe of Oklahoma, has been serving on the National Indian Council on Aging's (NICOA) board of directors for the past two years.
She remembers attending the NICOA 2016 conference in Niagara Falls. "The conference speakers were so dedicated, knowledgeable and passionate. It really impressed me. I sensed a real dedication and a concern for our elders and what laws and programs affect them," she said.
She became a Southern Plains regional member at the following NICOA conference in 2018. Several months later she was asked to serve on NICOA's board of directors as the national secretary.
"I wanted to represent rural tribes and bring awareness to that area and what's available," she said. "There are so many resources nationally that each tribe can benefit from."
Lately she's been spending her time assisting the tribal members and elders who come to her with their grievances, advocating for them so they feel welcome outside their reservation as well as within. She often reaches out to local officials to encourage cultural competency in their tribal interactions.
In the future she hopes to assist in the creation of a Southern Plains regional conference targeting the tribes of western Oklahoma, Kansas, and Texas. Her goal is to bring regional tribes together so that they can network and utilize one another's resources.
"I wanted to have a regional conference before COVID hit," she said. "Elders need to become more aware of resources. Especially in my region, I'd love to see more interaction. They don't have as much communication as they could. Everyone should be able to help each other when it comes to tribal elders."