The Census that is conducted every 10 years is the only complete count of the U.S. population, and results in data for the nation as a whole and for every geographic area within it — down to the smallest American Indian reservation and Alaska Native village. The Census is the only source of this kind of data, with thousands of uses that may impact American Indians and Alaska Natives. The federal government and local American Indian and Alaska Native leaders and policymakers will utilize 2020 Census data to benefit Native people and communities. Accurate data is especially important for Indian Country as American Indian and Alaska Natives are the ethnic group with the highest undercount of any defined by the Census Bureau.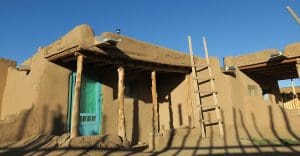 The 2020 Census will be available online, but that may not be an option for remote villages where internet connectivity is poor. That's why Census enumerators will start knocking on doors in Alaska on January 21, 2020 to count people where they live. Less than 1 percent of households will be counted in person by a census taker, instead of being invited to respond on their own. This is performed in very remote areas like parts of northern Maine, remote Alaska, and in select American Indian areas that ask to be counted in person.
Census takers will visit all households that were invited to respond on their own and haven't. The best way to avoid a visit from a census taker is to fill out the 2020 Census questionnaire online, by phone or by mail as soon as you receive your invitation to participate.
Additionally, you might see census takers in your neighborhood for different reasons. They may be verifying addresses in preparation for the census, collecting responses to the census or another survey, dropping off census materials or conducting quality checks related to the census. You can explore where the Census Bureau plans to send address canvassers with this interactive map.
If someone visits your home to collect information for the 2020 Census, you can check to make sure that they have a valid ID badge, with their photograph, a U.S. Department of Commerce watermark and an expiration date. If you still have questions about their identity, you can contact your Regional Census Center to speak with a Census Bureau representative.
It is important to know that the Census Bureau will not send unsolicited emails to request your participation in the 2020 Census. Further, during the 2020 Census, the Census Bureau will never ask for your Social Security number, your bank account or credit card numbers, money or donations. In addition, the Census Bureau will not contact you on behalf of a political party.
Responding to the 2020 Census is easy, important and safe. Responses to the 2020 Census are confidential. Personal information is never shared with any other government agencies or law enforcement, including federal, local and tribal authorities. The Census Bureau is bound by federal law to protect your information, and your data is used only for statistical purposes. Responses are compiled with information from other homes to produce statistics, which never identify your home or any person in your home. Learn more about how your information is protected.