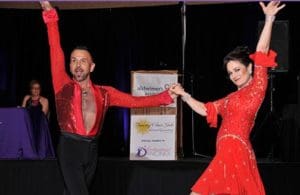 The Alzheimer's Association, New Mexico Chapter is very pleased to announce the 7th Annual Dancing Stars Gala, returning to Albuquerque on Saturday April 22 from 5:00pm to midnight at the Sandia Resort and Casino, 30 Rainbow Road.
The event is a competitive fundraiser, featuring local celebrities and community leaders who raise money for important Alzheimer's research and programs by learning how to expertly dance over the course of months, fundraising for the cause, then competing against each other on the night of the Gala. The event is hosted annually by the Alzheimer's Association, New Mexico chapter. It is billed as an evening of fine dining, dancing, and rollicking fun, where your votes decide which local celebrity stakes claim to the Dancing Stars Trophy, all in the name of raising money for local support, programs, and research that may one day lead to a breakthrough in the battle to end Alzheimer's disease.
"The Dancing Stars Gala is unlike any of our fundraisers," says Gary L. J. Giron, Executive Director of the Alzheimer's Association, New Mexico Chapter. "The music, costumes, and amazing dance competition make for a fun evening with a touch of sophistication, all for a very worthy cause."
"It's a chance to dress up, enjoy fine food, and cheer on our favorite contestants and a fun unique way for the community to participate as we work toward a vision of a world without Alzheimer's disease", Giron continues. "We encourage everyone to come out and share this singular and exhilarating event with us."
Cost is $160 per plate or $1500 per table to ten. For more information contact 505-266-4473 or visit http://act.alz.org/NMGala17.