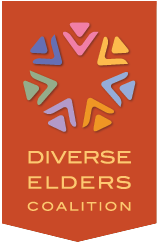 Request for Proposals: Civic Engagement Project Consultant
The Diverse Elders Coalition is looking for a Consultant with experience in policy advocacy on issues concerning elders of color and LGBT elders, Congressional affairs, public education and social media, and civic engagement for a unique project to promote and amplify the advocacy voice of diverse elders.
For details please see DEC Civic Engagement Consultant RFP.
Proposals will be accepted through Friday November 13, 2015. Send materials to Ben de Guzman, DEC National Managing Coordinator via e-mail to bdeguzman@diverseelders.org. Inquiries should be submitted by COB Friday, November 6, 2015. Our response to inquiries will be posted on our website, www.diverseelders.org, by 5:00pm EST Monday, November 9, 2015.