New Mexico State Police are seeking the public's assistance in locating Denise Coultas-Parker, a 62-year-old American female with multiple sclerosis and transient global amnesia. She went missing two months ago on Native American land in a desolate area of New Mexico where temperatures can drop below 30 degrees at night.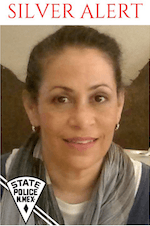 Coultas-Parker is five feet two inches tall, weighs 137 pounds, has brown/gray hair, brown eyes, freckles, and a scar above her left eyebrow. She is believed to be wearing blue jeans, a long-sleeved blouse with a blue/gray sweater, a cloth cap or hat, a black leather fanny pack, thick socks and light slip-on shoes.
She was reported missing to the Los Angeles Police Department on November 8, 2018, having disappeared from her residence in Sunland, California. On Nov. 12, her car was found abandoned in Acoma, New Mexico, one mile south of I-40 at exit 102 at the intersection of Pueblo Road and Flower Mountain Circle. New Mexico State Police issued a silver alert on Nov. 17.
Previously, search efforts had been hindered by contradictory laws governing access to tribal lands. The Acoma Tribal Authorities had not allowed a comprehensive land search to locate her. Outside agencies were willing to give support and resources but had to wait for permission.
Finally, on January 5, a large search-and-rescue mission was conducted by State Police. The recent heavy snowstorms made the search especially difficult.
Coultas-Parker is believed to be in danger. Anyone with information is asked to call the Acoma Police Department at (505) 552-6601, the New Mexico State Police at (505) 841-9256 or 911, or LAPD Missing Persons Detective Morales at (213) 996-1800.