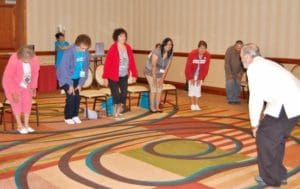 We've all heard it a million times – a balanced diet and exercise is the key to good health. Many of us don't think of either activity as being a lot of fun. Exercise in particular is hard for many to work into a daily schedule. With already full lives who has the time to go to the gym or pick up weights? Both diet and exercise are critical to maintaining health, however, and that's why everyone has heard that message before. Exercise, in particular, is important for American Indian and Alaska Native Elders, as it can provide many benefits to our health and wellbeing.
Daily or regular exercise can help with physical health – such as preventing the onset of chronic disease and reducing the risks of heart disease, stroke, diabetes and more. It also supports good mental health; exercise can help Elders to combat depression, stress, and anger, as well as to simply "feel good." Long-term, regular exercise also assists in maintaining the strength of the body and mind alike, both of which are crucial to aiding Elders in maintaining their independence and in continuing to do the things they enjoy doing.
More than that, exercise has also been shown to dramatically increase the length of Elder's lives. Those who exercise regularly simply live longer – years longer on average – than those who do not. Those who are sedentary (who sit around most of the day) have a higher risk for death from all causes than those who are active.
The best news of all is that just 20-25 minutes of exercise every day can help Elders over the long term to improve and maintain their health. Starting simple with a brisk morning walk or some indoor exercise is all it takes to start living better! Bottom line…It is important to start moving so we can keep moving in our Elder years.
For the full length article on this topic click Exercise for a Healthy Life.