The Federal Reserve Bank of Minneapolis' Center for Indian Country Development is a nationally recognized thought leader and clearinghouse for resources and initiatives concerning Native economic development as well as a respected contributor to research critical to Indian Country constituents. It is also the Federal Reserve System's principal point of contact and key supporter of the Fed in fulfilling its responsibility to Indian Country.
Mapping Native American Financial Institutions
Their website maps the headquarter locations and asset sizes of banks and credit unions owned by — and community development financial institutions primarily serving — American Indian, Alaska Native, and Native Hawaiian individuals and communities.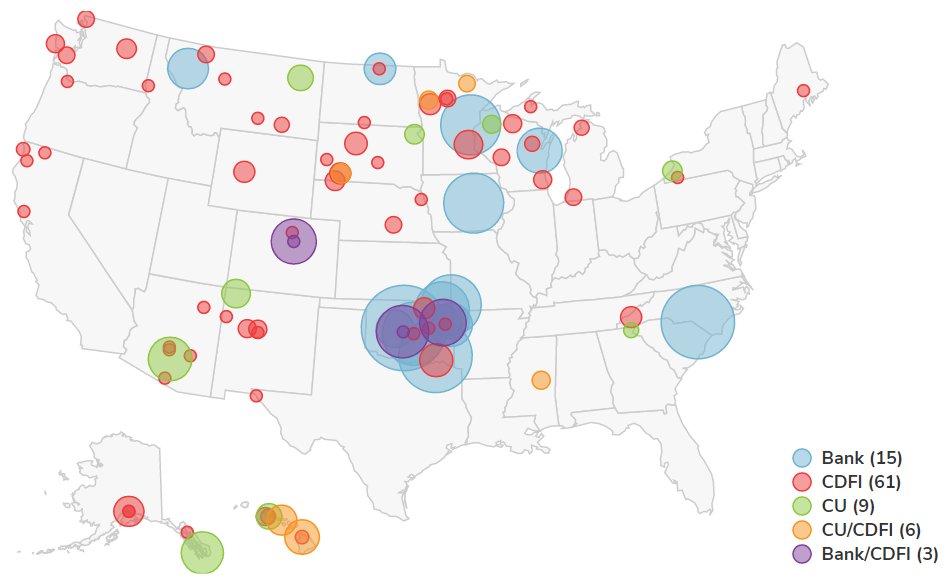 The Native American Labor Market Dashboard
Three of the most commonly used labor market metrics are the labor force participation rate, the employment-to-population ratio, and the unemployment rate. The Native American Labor Market Dashboard provides these three metrics for the American Indian and Alaska Native population. In doing so, it fills a gap in the published estimates that are available from the federal statistical agencies.
Together, the metrics in the dashboard provide a timely assessment of how Native workers are faring, which may differ substantially from the conditions of workers overall. Check out the Native American Labor Market Dashboard for a data tool to illuminate current labor market conditions for Native people.
The Tribal Leaders Handbook on Homeownership
As Native populations grow rapidly, tribal leaders are challenged as never before to provide their members decent housing. Expanding homeownership is a huge part of the solution for reservations and Indian areas, but until recently lenders just didn't extend home loans in Indian Country.
The Tribal Leaders Handbook on Homeownership is the essential guide to understanding a process that has so much potential but is still in its infancy. Their handbook is your guide to the new mortgage programs (government and private), the new kinds of lenders (loan funds, Native CDFIs), and the new energies that are transforming Indian housing.
Reservation Profiles
You can also explore reservation profiles, which feature key demographic and economic indicators for American Indian reservations (with at least 2,500 residents).