The National Indian Council on Aging (NICOA) applauds the historic appointment of Chief Lynn Malerba of the Mohegan Tribe by President Biden as Treasurer of the United States. The Native CDFI Network will be working closely with Chief Malerba and her team to strengthen and expand the role of Native CDFIs (Community Development Financial Institutions) in fostering that growth.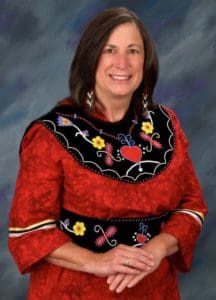 Malerba is the first Native person to be selected for this top federal post. Among her many important functions, Treasurer Malerba will oversee the newly established Office of Tribal and Native Affairs within the Department of the Treasury, which will serve as the hub for tribal policy and house staff directly dedicated to communication with tribal nations and other key Indian Country stakeholders. Treasury previously created a tribal team in 2021 as part of its efforts to develop the department's growing relationship with tribal nations and to help administer $30 billion in programs directed towards Indian Country through the American Rescue Plan.
Chief Malerba became the 18th Chief of the Mohegan Tribe in 2010 and is the first woman to serve in this position in the tribe's modern history. She previously served as a member of the Treasury Tribal Advisory Committee. Chief Malerba will now serve as a senior advisor to the Secretary in the areas of community development and public engagement.
In addition to leading the Office of Tribal and Native Affairs, the Treasurer of the United States directly oversees the U.S. Mint, the Bureau of Engraving and Printing, Fort Knox, and is a key liaison with the Federal Reserve. Chief Malerba's appointment as Treasurer of the United States will also mean that for the first time in U.S. history, a Native woman's signature will be seen on U.S. currency.