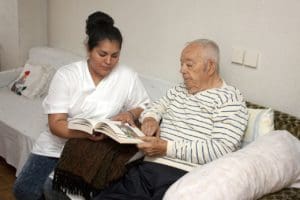 "The Savvy Caregiver Program" is a FREE seven session course presented by the Alzheimer's Association, NM Chapter will be held each Thursday from April 6th to May 18th from 5:30pm to 7:30pm. This event will be hosted by the Alzheimer's Association office, 125 N Main Street, Suite 103, Las Cruces, NM 88001.
To register, or for more information, contact – Candace Thomas at (575) 520-3995,  cthomas3765@aol.com or Tina De La Luz at (505) 266-4473, tdelaluz@alz.org.  The event is free of charge.
This evidence-based training aims to teach caregivers practical techniques for interacting with loved ones with Alzheimer's disease, and for understanding and managing their behavior. It also imparts tools for long-term planning and for reducing stresses common to Alzheimer's caregivers. The course explains the signs, impacts and pathology of Alzheimer's disease.
Class size is limited and they do fill up quickly.  Call now to register.  Participants of the Savvy Caregiver Program may be reimbursed for the cost of having others tend to their loved one while they attend the classes.
The number of Americans living with Alzheimer's disease is growing – and growing fast.  Today, 5.5 million Americans are living with Alzheimer's disease, including an estimated 200,000 under the age of 65. It is the 6th leading cause of death in the US, and nearly two-thirds of those with Alzheimer's disease – 3.3 million – are women.  Nearly one in every three seniors who dies each year has Alzheimer's or another dementia*.
Every 66 seconds, someone in the United States develops Alzheimer's dementia.  By 2050, someone in the United States will develop Alzheimer's dementia every 33 seconds.  By that same year, as many as 16 million will have the disease. Currently, there is no cure for Alzheimer's.