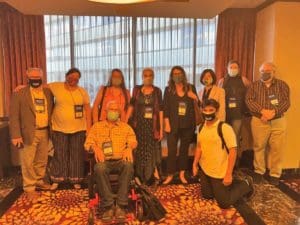 Our partner, IA2, the International Association for Indigenous Aging, was a prominent presence at the National Indian Council on Aging's American Indian Elders Conference earlier this month. View the picture to the right to see the IA2 team and others who helped with listening sessions, trainings, workshops, photo sessions, and other activities.
IA2 estimates to have reached more than 296 folks. They talked with 49 elders, caregivers, and advocates during multiple listening sessions over the week. They officially announced and debuted their new "Dementia Friends for American Indians and Alaska Native Communities".
They trained nine new "champions" from eight different tribes with the pilot content — just the start of a great grassroots effort to start conversations in Indian country and Alaska communities! Other sessions included topics on Savvy Caregiver for Indian Country for program leaders; Dementia and Wandering; Policy, ADRD and Tribes; the link between food and dementia; and more.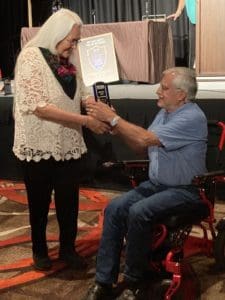 During the conference, IA2 Board Member and Executive Director Dave Baldridge (Cherokee) was honored to receive an award for his lifetime achievements on behalf of American Indian and Alaska Native people.
IA2 has also unveiled a new website which will feature a robust online resource library and a direct link to their brain health subsite. Additionally, they still have printing stipends for brain health resources. If you or a tribe needs copies of materials, click here.
They are also working on a revised and re-designed version of the 10 Warning Signs of Abnormal Memory Changes or Dementia and 10 Warning Signs of Alzheimer's documents. See the originals below and email IA2 to submit feedback.