Anyone who comes into close contact with someone who has COVID-19 is at increased risk of becoming infected themselves, and of potentially infecting others. Contact tracing can help prevent further transmission of the virus by quickly identifying and informing people who may be infected and contagious, so they can take steps to not infect others.
A contact tracer from the health department might call if you have been exposed. These calls are important to answer, but it's equally important to be cautious of scammers pretending to be contact tracers.
You do not pay contact tracers. No bank account information or credit card number is necessary for contact tracing, so no legitimate contact tracer will ask for either one. Real contact tracers will not ask for money. Only scammers will insist on payment by gift card, money transfer or cryptocurrency.
Similarly, contact tracers will never ask for a Social Security number. Do not give that number to anyone who contacts you. Contact tracers also have no business asking about immigration status: If anyone claiming to be a tracer asks about it, you can be sure it's a scam.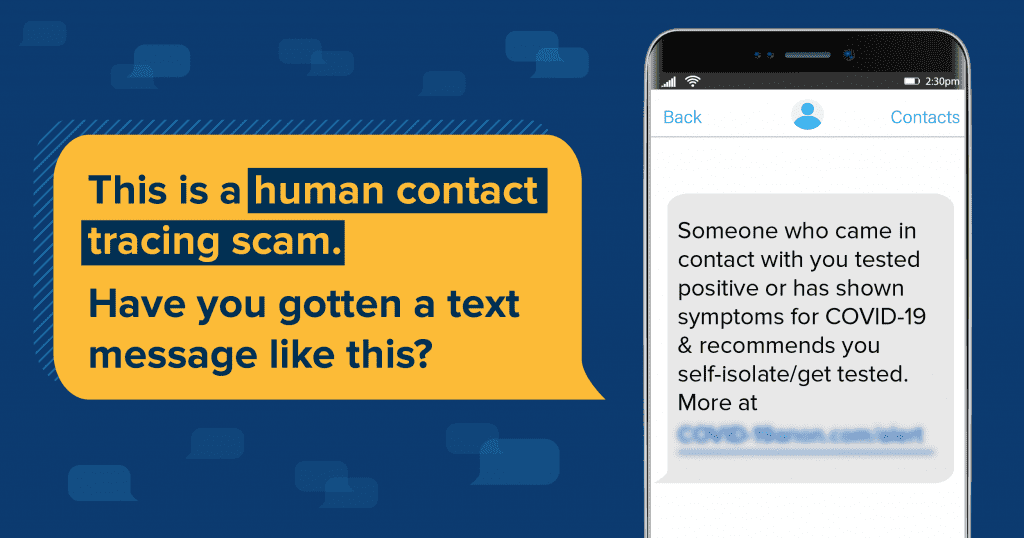 Do not click on any links in text messages or emails allegedly from a contact tracer, as doing so can download malware onto your device, giving scammers access to your personal and financial information. Real tracers will only send you texts or emails that say they'll be calling you — they will not ask you to click or download anything.
A contact tracer might get in touch to discuss results of a test you know you took, or because someone you've been in contact with tested positive. Depending on how your state has set up its program, legitimate contact tracers may call, email, text, or visit your home to collect information. They may ask you for your name and address, health information, the names of places and people you have visited.
Real contact tracers only call you to notify you about exposure and to identify anyone you've been in close contact with so they can locate them as well. They may tell you what symptoms to look out for, advise you to isolate yourself for a period, and to seek medical attention as needed if you start to experience symptoms. Click here for a full list of contact tracer questions.
Talking to a real contact tracer helps stop the spread of COVID-19. Reporting scammers helps stop the scams too. You can verify these calls are legitimate by taking down the number and contacting your state health department, and you can report fake contact tracers at ftc.gov/complaint.