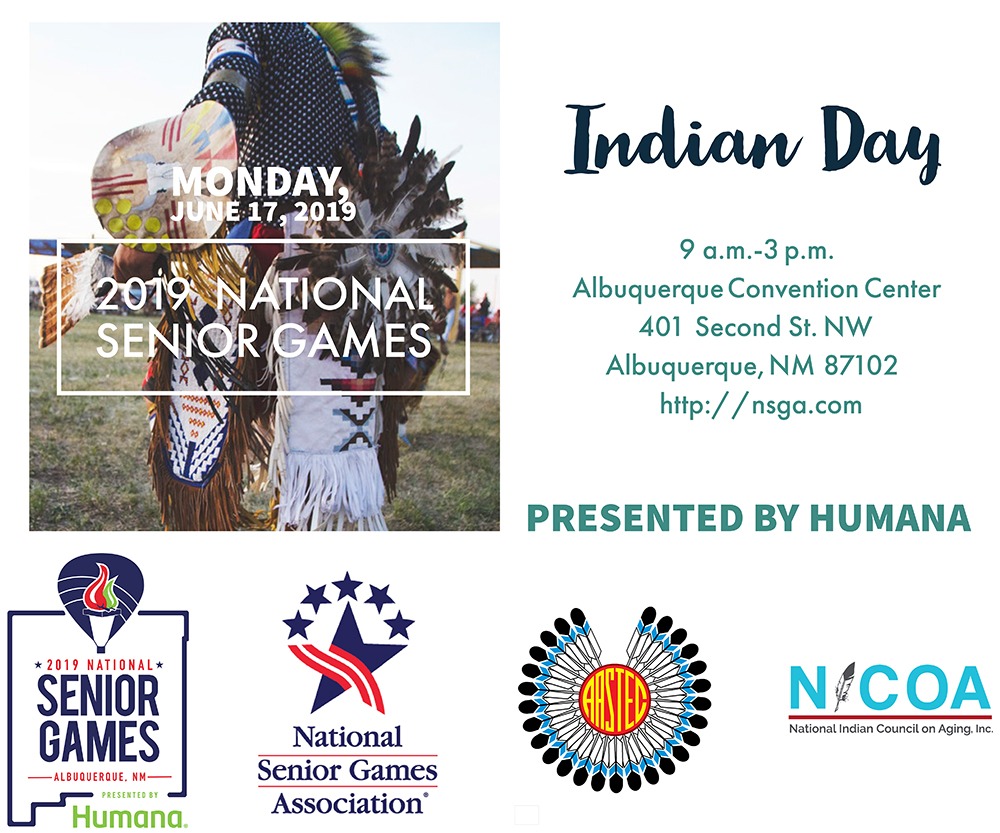 The 2019 National Senior Games are special for two reasons: This is the first year the Games have been held in New Mexico, and the first time there's been a designated Indian Day!
Indian Day (June 17) will have an exclusive focus on American Indian and Alaska Native elder athletes. The National Indian Council on Aging is designing a program that will reflect the rich diversity of Native culture here in Albuquerque, including songs, drumming and dancers. This is a wonderful opportunity for visitors to learn more about New Mexico and the pueblos and tribes within its borders. There are more than 100 American Indian elders eligible to enter the 2019 National Senior Games.
This year's National Senior Games has the most registered athletes in its 32-year history. New Mexico is the number one state for athletes registered — 1,516 total. Although this is the first time the biennial National Senior Games will be held in New Mexico, organizers expect approximately 13,000 athletes along with more than 15,000 of their family, friends and fans. Over 10,000 athletes from across the country and internationally will be in Albuquerque to compete in the Games.
With all 50 states represented, there are 13,712 athletes who will compete in 20 medal sports. This represents a 30 percent increase compared to the recent games in 2017, and it's 14 percent higher than the previous high of 12,000 reached in Louisville, Kentucky in 2007.
The National Senior Games, which has been held every two years since 1987, is the largest Olympic-style multi-sport event in the world for people 50. Qualifying takes place through 52 NSGA member and associate games held throughout the country and Canada.
Some of the sports include: archery, badminton, basketball, bowling, cycling, golf, horseshoes, pickleball, power walk, race walk, racquetball, road race, shuffleboard, softball, swimming, table tennis, tennis, track and field, triathlon, volleyball, and more. There are also over 800 events staged at multiple venues over the two-week period.
The National Senior Games are expected to generate over $36 million in direct economic impact for the state. Interested athletes over 50 can still compete in the Games at two open events (no qualification needed) for power walk and team-relay for triathlon; visit nsga.com for more information. A full schedule of events is coming soon.
The 2019 National Senior Games, presented by Humana, runs June 14-25, with Indian Day occurring from 9 a.m. to 3 p.m. on Monday, June 17 at the Albuquerque Convention Center, 401 Second Street NW, Albuquerque, NM 87102.