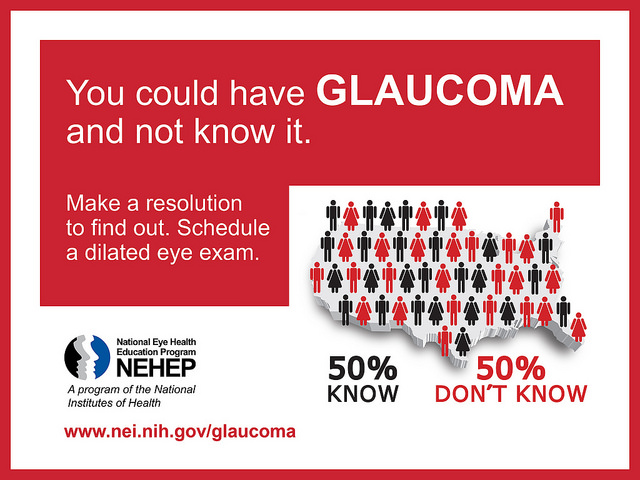 It is National Glaucoma Awareness Month and the National Eye Institute (NEI) is encouraging people to make a resolution for healthy vision this new year, as "glaucoma is a leading cause of vision loss and blindness in the United States." (1)
Glaucoma
NEI states "Glaucoma is a group of eye diseases that damages the optic nerve. Optic nerve damage is caused by increased pressure from fluid that builds up inside the eye. … Left untreated, glaucoma can cause total vision loss." If glaucoma is detected early it can be controlled and vision loss can be prevented. Unfortunately, vision that is already lost due to glaucoma cannot be restored, so catching it before vision loss is severe is crucial. (1)
About 3 million people age 40 and older have glaucoma, projected to increase to 4 million in 2030, and about half of the people who have it don't know. (2)
Risk Factors
There is a reason that over half of the people who have glaucoma don't know, because in the early stages there are no symptoms. (1) This is why getting a dilated eye exam and knowing your risk factors for glaucoma are important. Risk factors include:
Age, the older you are, the greater at risk you are
A history of glaucoma in your family
A history of high pressure in your eyes
Previously having an eye injury
Previous long term steroid use
Having nearsightedness
Furthermore, there are some races that are more likely to get glaucoma. Specifically, African Americans are 4-5 times more likely to have glaucoma, Hispanics have an increased risk as they age, and Asians and American Indians have an increased risk of getting a specific type of the disease called angle closure glaucoma. (3)
Angle closure glaucoma, also known as acute narrow-angle glaucoma, is caused by the prominence of anatomically narrower anterior chamber angles and can be a serious medical emergency. "Acute narrow-angle glaucoma occurs suddenly, when the colored portion of your eye (iris) is pushed or pulled forward. This causes blockage of the drainage angle of the eye… If the high eye pressure is not reduced within hours, it can cause permanent vision loss. Anyone who experiences these symptoms should contact an ophthalmologist immediately or go to a hospital emergency room." (4)
Schedule an Eye Exam Today!
If you are concerned about glaucoma or have risk factors, make sure to schedule a dilated eye exam with your ophthalmologist or optometrist.
More Information
For more information on glaucoma, watch the video below from NEI and go to their website at  https://nei.nih.gov to learn more about glaucoma and general eye health.
Sources