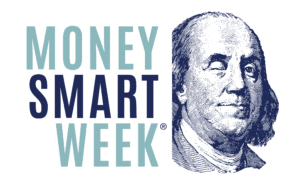 The following information is derived from the MoneySmartWeek.org website.
During the week of April 22 through 29th the Chicago metropolitan area will host Chicago Money Smart Week. The great news is that there are also many great videos and resource guides for families, youth, and elders online on the Money Smart Week website accessible at any time.
Money Smart Week helps consumers manage their personal finances better. Programs are offered to all demographics and income levels, and cover all facets of personal finance.
You can watch quick and easy 'Money Minutes' videos that introduce financial topics and provide free and unbiased advice on topics such as credit reports, budgeting wellness tips, the power of compounding interest, preventing identity theft and more.
You can also learn about financial smarts through their recorded webinars, tools, games, and blog articles.
History
Money Smart Week began as a coordinated effort of the Money Smart Advisory Council, a diverse group of more than 40 Chicago-area organizations working together to promote personal financial literacy. The Chicago Fed convened the Council's first meeting in July 2001, during which members agreed to share resources and ideas to achieve greater public awareness of the programs and services available in the city of Chicago.
The result was Money Smart Week 2002 — six days of focused presentations by community groups, financial institutions, government agencies, educational organizations, and financial experts, all designed to help consumers learn to better manage their personal finances.
For more information go to the MoneySmartWeek.org website.