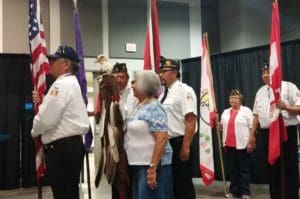 The Smithsonian's National Museum of the American Indian has been charged by Congress with establishing a National Native American Veterans Memorial, to give "all Americans the opportunity to learn of the proud and courageous tradition of service of Native Americans in the Armed Forces of the United States".
The Honorable Ben Nighthorse Campbell (Northern Cheyenne) and Chickasaw National Lieutenant Governor Jefferson Keel are leading an advisory committee of tribal leaders and veterans representing the geographic diversity of Indian Country and the various branches of the Armed Forces. The committee assists with the outreach to Native American national and tribes and their veterans and advise on plans for the memorial.
Throughout 2016, the advisory committee and the museum have conducted community consultations to seek input and support for the memorial. Regional events bring together tribal leaders, Native veterans, and community members to gather their insights and advice.
A traveling banner exhibition, called Patriot Nations: Native Americans in Our Nation's Armed Forces, tells the stories of American Indian veterans as well as the museum's plans to build the memorial. The exhibition, made possible with support from the San Manuel Band of Mission Indians, continues to travel to tribal centers, museums, and libraries. A design for the memorial will be selected by a juried competition. In 2016 through 2017, the advisory committee and the Smithsonian's National Museum of the American Indian, will hold consultations in each of the twelve NCAI regions to discuss plans for the memorial. To sign up for updates and for more details and a schedule for consultations please visit the Smithsonian's National Museum of the American Indian's website.
*********************************************************************************************************************************************************************************
Veterans can enjoy free meals and discounts on Veteran's Day across the country. Click this link for locations and details.
For resources and supports for veterans please go to our NICOA Veterans Resources page.