Equal Pay Day for all women should be on December 31, but it's not. The average woman must work far into the next year to earn what the average white man earns the previous year.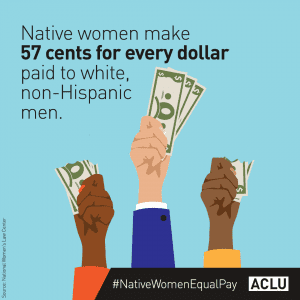 American Indian women earn approximately $.57 cents on the dollar of white, non-Hispanic men (based on 2019 data). This is a $.1 cent decrease from last year.
This year Native Women's Equal Pay Day falls on October 1 — that's the day that the wages of American Indian and Alaska Native women catch up to the money white men were paid in 2019 (the exact day differs year by year). It took about 22 months for Native women to earn what white men were paid in 12 months alone — that's 10 extra months of labor.
Dates are based on 2019 U.S. Census data on median earnings for full-time, year-round workers. Because they are observances, adjustments may have been made to avoid weekends and holidays.
In 1963, the Equal Pay Act made it illegal for employers to pay their workers lower wages solely because of their gender. Yet nearly 60 years later, the wage gap still disproportionately affects women today. The pay disparity between American Indian women and white men in the U.S. makes up the second largest wage gap in comparison to other ethnic groups (the largest being between Latina women and white men).
There's even a pay gap between Native men (who in turn have a pay gap compared with other men) and Native women. American Indian and Alaska Native women are paid 87 percent of what American Indian and Alaska Native men are paid.
The median annual pay for a Native woman in the United States who holds a full-time, year-round job is $34,466, and the annual median wage gap between a Native woman and a white, non-Hispanic man who each hold a full-time, year-round job is $25,884 per year. If the annual wage gap were eliminated, a typical Native American woman working in the U.S. would have enough money to pay for approximately: nearly three additional years of tuition and fees for a four-year public university, or the full cost of tuition and fees for a two-year college; nearly 34 more months of child care; or 18 additional months of premiums for employer-based health insurance.
Retirement
The current gender wage gap becomes particularly detrimental when you look at how much less money women make over time compared to men. Based on today's wage gap, women earn $406,760 less than men over the course of a 40-year career, according to the National Women's Law Center. The wage gap that women experience in their working years morphs into a gender retirement gap.
Women also find it harder to save for retirement because they are more likely leave paid work to be caregivers to spouses, children and elders. Women age 63 on average end up with only two-thirds of the retirement savings and benefits that men do.
The situation is even worse for Native women. Native women typically lose $977,720 compared to white, non-Hispanic men. In order to close this lifetime wage gaps, Native women would have to work nearly 30 years longer than their white, non-Hispanic peers retiring at age 60. This means that if a Native woman and her white male counterpart both began working at the age 20, she would have to work until she was 90 to earn the same amount he made by 60, the National Women's Law Center reports.
Why
Although many corporate leaders try to blame this pay discrepancy on various factors — from industry type to educational level — data shows that this is not the case. Not only does the wage gap for Native women exist across occupations, but it actually widens with higher education level. Ultimately, this pay inequity reflects the systemic oppression and erasure that American Indians continue to face every day.
Native people face disproportionately high rates of unemployment, poverty and violence as well as limited access to education and health care, and Native women experience intersectional discrimination based on race and gender and other forms of discrimination. Although American Indian women are going to college and holding jobs at higher rates than ever before, education and good jobs don't eliminate the wage gap (though they help increase earnings). An American Indian woman with a master's degree makes only about $52,000 — approximately the same amount a white man with just an associate's degree is paid, according to the National Women's Law Center (NWLC). Even with a professional or doctoral degree, an American Indian woman still makes about 55 cents to the dollar in comparison to a white man with the same degree, according to the NWLC.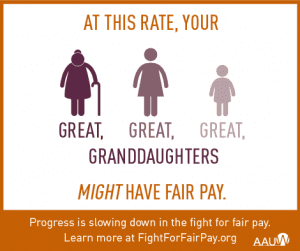 Last year the Institute for Women's Policy Research estimated that women wouldn't receive equal pay until 2059. Discrimination, occupational segregation, workplace harassment, wage theft, inadequate minimum wage, pregnancy and caregiver discrimination, and employer practices — such as using prior salary history in setting current pay and prohibiting employees from discussing their wages — are slowing down progress.
Equal Pay Day is an opportunity to draw attention to the gender pay gap and to call for legislative action and other solutions, including American Association of University Women's salary negotiation workshops, to curb this pervasive problem. You can also promote the equal pay of Native women by voting for equity-based legislation, supporting Native leadership and inviting Native women to the table when making policy decisions.
Native women shouldn't have to work an extra 10 months. Talk about your pay and keep advocating for real change.