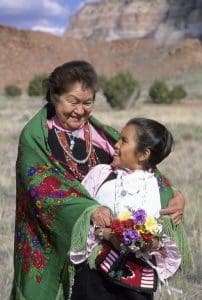 "Communities of Strength" is the theme for 2021's Older Americans Month. The elders of the American Indian and Alaska Native communities exemplify strength both individually and as a nation. It is because of this strength that the National Indian Council on Aging (NICOA) exists and strives to honor them by supporting them throughout the United States.
Our elders have built their strength over their lives through celebrations and sorrows. In all cases, they have led or leaned on a corps of individuals. These supporters not only benefitted from the elders' strength and leadership but strengthen the elders themselves through a variety of ways.
NICOA needs such support as well. We are asking you to stand with us and support us in 2021 by donating $21 a month for the rest of 2021. Over the next eight months, your contributions will support and strengthen NICOA as we strive to provide services to those that our nation has looked up to and followed for decades.
Please join us in this $21 for 21 campaign by setting up a monthly reoccurring contribution of $21 per month for the rest of 2021. You can set-up this payment by going to GoFundMe.com.
As we all honor our elders, the Older Americans of our Nations, we thank you for supporting us so we can support and strengthen them.
Sincerely,
Larry Curley
Executive Director