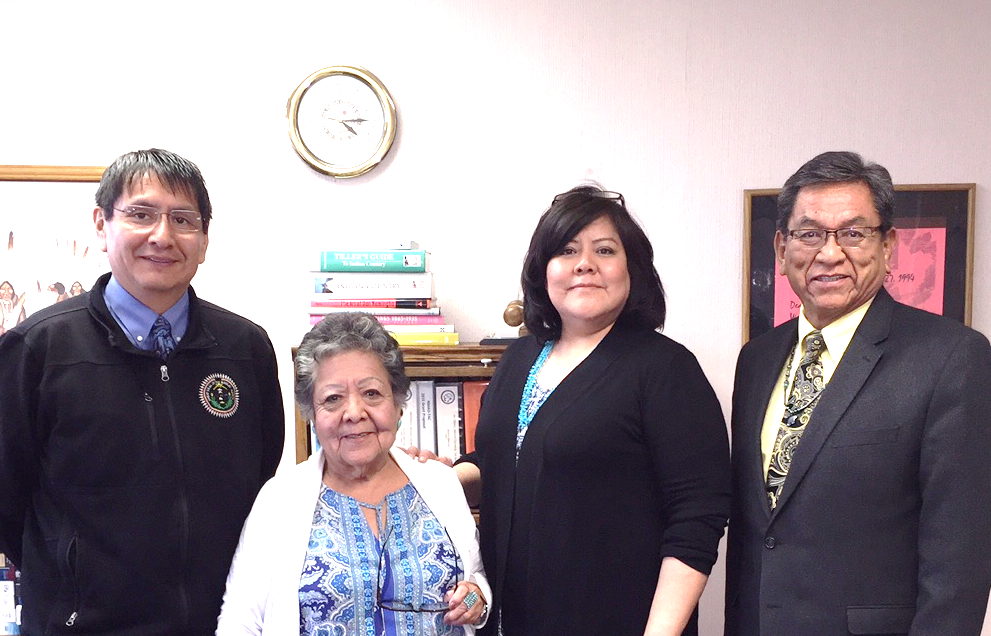 (L-R) Navajo Nation Vice President Jonathan Nez, Alta Bluehouse, Administrator, Annie Wauneka Life Care, Randella Bluehouse, Executive Director, National Indian Council on Aging, Inc., Navajo Nation President Russell Begaye.
Albuquerque, New Mexico – March 9, 2016 ~ It is inspiring when Tribal leaders demonstrate their concerns and commitment to our cherished elders. The National Indian Council on Aging, Inc. (NICOA) in Albuquerque, NM received a special visit from the Navajo Nation President Begaye and Vice President Nez on March 7, 2016. They talked about their plans to create opportunities for intergenerational programs that will bring elders and youth together to strengthen the values of the Navajo Life Ways. Vice President Begay commented that "it is the obligation of the Navajo Nation to ensure that our language, culture and values from our elders to our youth continue to flourish and evolve."
The Navajo Nation Office of the President and Vice President graciously offered opportunities for NICOA to have direct access to their office. This access will help in building greater opportunities for elders to age at home and on the Navajo Nation with supports and resources for their needs. Randella Bluehouse, National Indian Council on Aging Executive Director,  states, "I am honored and hopeful for our elders across the Navajo Nation, because this visit was long in coming and sets a strong precedent for NICOA to work with the Navajo Nation as we advocate together to improve the health, social services, and economic wellbeing of American Indian elders."
The Navajo Nation is vastly rural and faces a growing population of elders that need long-term care and support services, caregiver supports for elders with disabilities and dementia care needs, and for community-based nutrition and social services offered through the Navajo Nation Area Agency on Aging.
NICOA extended an invitation to the Navajo Nation Leadership, elders, caregivers, and service providers to join us in Niagara Falls, NY from September 13th-15th for the 21st Biennial NICOA Conference on Aging in Indian Country. This year we celebrate the 40th Anniversary of the creation of NICOA. The conference registration materials will be posted on the NICOA website at www.nicoa.org. For more information, you may call us at (505) 292-2001.
NICOA is greatly honored and privileged to meet with our Navajo Nation leaders as they plan for the future growth and well-being of Navajo elders, youth and families.
ABOUT NICOA
NICOA is a national nonprofit with the mission to advocate for improved comprehensive health, social services, and economic wellbeing for American Indian and Alaska Native Elders.
For more information, contact:
Randella Bluehouse, Executive Director
rbluehouse@nicoa.org
505-292-2001
www.nicoa.org