The 41st annual New Mexico Conference on Aging was held August 13-14, 2019 at the Sandia Resort and Casino Conference Center. The theme for this year's conference was "Facing the Future of Aging Together". The conference offered older adults, caregivers and the professionals who work with them a chance to learn in an environment that supports independence and dignity.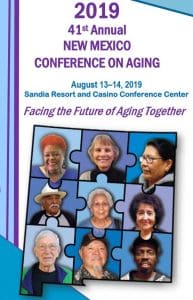 NICOA's Elder Equity Program Manager Rebecca Morgan presented a roundtable discussion on "Overcoming Barriers to Benefits: How Can American Indian Elders Connect to Program". Many people are unaware that programs such as Medicare, Medicaid, SNAP, LIHEAP and Lifeline are available to assist elders in managing the increasing cost of living. Her presentation discussed how barriers could be reduced to encourage American Indian elder participation in these programs.
She also gave a presentation on "Data Sovereignty in Indian Country and How It Can Apply to Your Aging Community". Accurate data is key to making decisions that best meet the needs of those you serve. The workshop detailed how to conduct assessments, build trust with the community, and reach shared goals to increase knowledge and improve social determinants of health.
"Now days—The Changing Face of Aging and Caregiving" discussed what to consider when preparing to care for a loved one or provide services to those caregivers. "Serving New Mexico Elders—NM Aging and Disability Resource Center" provided information on the Aging and Disability Resource Center, which offers access to information and assistance in areas of daily living that maximize personal choice and independence for New Mexico's older adults, adults with disabilities and their families and caregivers.
The "Older Adult Falls Prevention" workshop promoted wellness and health for adults 65 years and older. Fall-related injury and death rates were discussed with an emphasis on identifying fall risk and referrals to evidence-based falls prevention interventions. The presentation included demonstrations regarding fall risk assessments and an example of falls prevention intervention by a certified instructor.
"Assistive Technology for Visual Impairments" taught attendees about what technology can benefit the elder population and help improve independence for those with visual disabilities. Attendees learned how assistive technology could be a viable asset to return functional capabilities to an individual's life. They also learned how elders can use these devices in the home and in the community to read the newspaper or shop for groceries. The session provided a unique opportunity for attendees to get hands-on with hand-held magnifiers, CCTVs, and devices that include optical character recognition to see how they work.
"Using Census Data for Assessment of Aging Populations" focused on aging populations in terms of race and ethnicity, social characteristics, living arrangements, economic status, workforce characteristics, terms used and more. Sources such as data tools and tables were discussed as well as differences between the 2010 Census and the American Community Survey results.
There was also a Conference Health and Enrichment Fair which offered attendees access to services and personalized information from a variety of sources. The fair provided attendees with health screenings, supportive services, educational programs, volunteer opportunities and services for wellness and productive aging.