by Rebecca Owl Morgan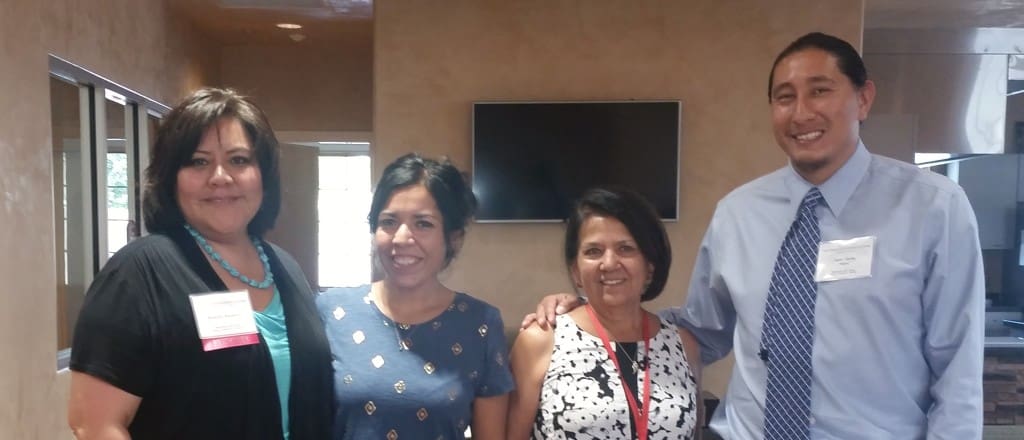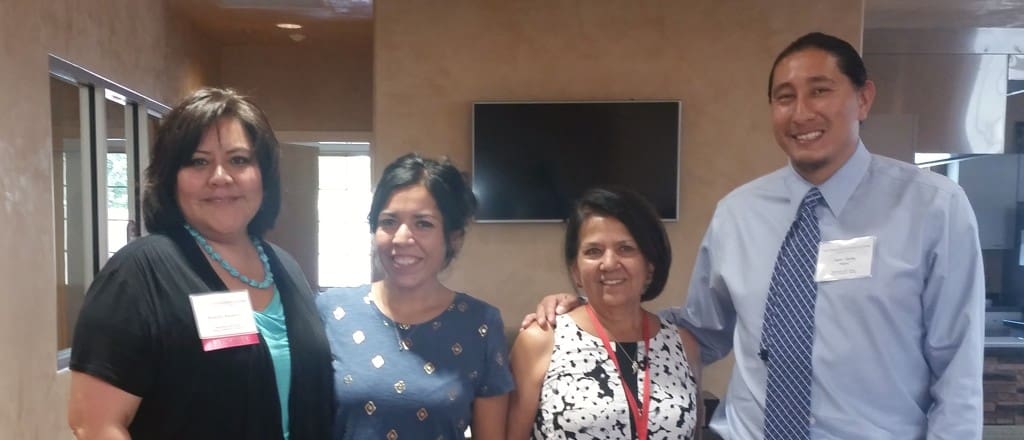 Randella Bluehouse, Executive Director and other staff from the National Indian Council on Aging, Inc. were attending the Annual New Mexico Conference on Aging at Isleta Resort and Casino when they were invited for an informal tour of the Pueblo of Isleta Elder Center. The Center opened in May, 2015. The design, construction, implementation and staffing of the center was an undertaking that required the dedicated efforts of many tribal leaders, members and other champions.
Regulatory Monitor Juan Rey Abeita showed the NICOA staff around the new facility. The building is beautiful, welcoming and elegant with meaningful symbols and photos of tribal members throughout. But a building does not come to life without the energy and care of the staff who devote themselves to their work. The Center is directed by Rita Jojola with able assistance from her hardworking, cheerful staff. They include:
Administration – Natasha Tewaheftewa, Administrative Assistant; Teresita Salazar, Receptionist
Operations – Jeffrey Jojola, Operations Manager; Edna Jiron, Data Entry Clerk; Monica Gonzales, Transporter
Personal Care Services – Pauline Lucero, Personal Care Services Manager; 10 In-Home Care Attendants
Home Services – Patricia Lucero, Home Services Manager; 6 In-Home Care Attendants; Crescencio Howlingcrane, Home Chores Worker; Rebecca Gonzales, Senior Companion Coordinator/Legacy Veteran's Support Services Manager; 12 Legacy Volunteers; 6 Senior Companions
Food Services Program – Robyn Kowice, Food Services Manager; Charlotte Lucero, Head Cook; Thelma Harris, Assistant; Marcelina Hightower and Gilbert Henry, Food Service Aide/Drivers
Adult Day Care – Emma Abeita, Adult Day Care Manager; Nicole Jaramillo-Abeyta, Adult Day Care Assistant
Regulatory Monitor – Juan Rey Abeita
Activities – Eugene Jojola, Activities Coordinator
Advisory Committee – Lillian Jaramillo, Priscilla Reyna-Jojola, Elsie Lucero, Edwina Abeita
The day center is a good place to socialize, work on a sewing project, have your hair done or get some exercise. They have a kitchen and lots of room for people to explore a project or just visit and watch TV together. The monthly calendar is full of interesting activities including educational field trips.
The Center also has a large commercial kitchen and comfortable dining room which is a natural meeting place for Elder and friends to gather. 234 Elders are currently served at the Center.
For those who cannot travel regularly to the center, an extensive array of home services are available and include respite, personal care and homemaker services, a Senior Companion Program and the Legacy Veteran Program, an AmeriCorps Program. Currently 84 Elder make use of these services.
Providing quality care close to home is a clear response to the wishes of the Elders of the Pueblo of Isleta. They prefer to live in their community near family, friends and familiar surroundings. The staff understand their language, food preferences, feast days and other cultural traditions. This level of local involvement in meeting Elder needs demonstrates the importance of the Older Americans Act for Elders across the country.