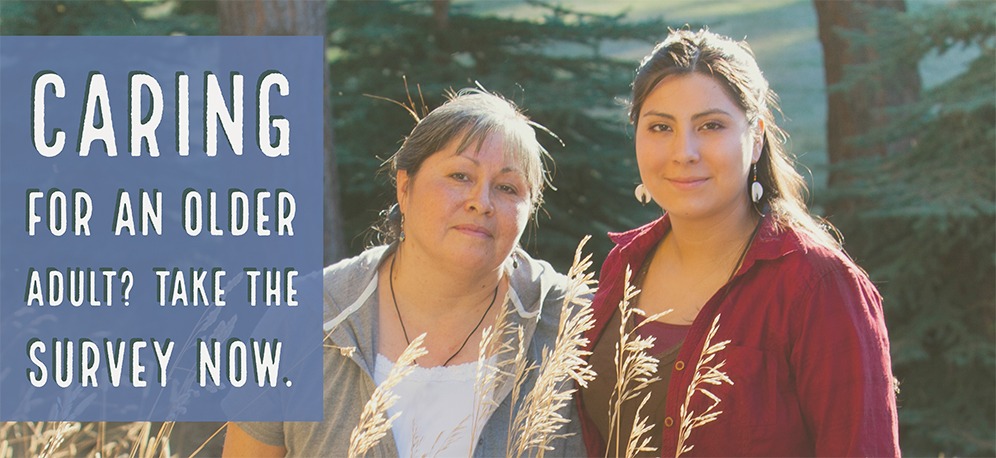 The National Indian Council on Aging has launched a new online survey for caregivers of older adults and we want to hear from you. If you're caring for an aging spouse, partner, family member or friend, you may need support. The Caregiving Community Survey was developed to better identify the needs of caregivers.
This mobile-friendly survey is for adults 18 years of age and older who provide ongoing help without pay to a relative, partner, friend or neighbor who is 55 years of age or older and needs assistance because of ongoing health problems or disabilities. The caregiver and the relative or friend getting help could live in the same household or in different households. They could live in the same city, different parts of the U.S., or another country. Ongoing help from afar can be done by telephone, mail, or email.
If you're providing support to a spouse, partner, parent, grandparent, friend, neighbor, or other family member, please tell us about your experiences. You could win a $25 Target gift card for participating!
This anonymous survey will take approximately 20 minutes to complete and be used to develop tools to better meet the needs of caregivers in our communities. Your answers will be kept confidential and combined with about 800 other survey respondents.
The Caregiving Community Survey is being conducted by the Diverse Elders Coalition, a national advocacy coalition working to improve aging in communities of color, American Indian and Alaska Native communities, and LGBTQ communities. This research is generously supported by The John A. Hartford Foundation and has been developed in partnership with the Benjamin Rose Institute on Aging.
If you're caring for an older adult, you are not alone. We need your thoughts to create tools, resources, and programs to better support you. The Caregiving Community Survey ends May 10. Please feel free to share the survey via email and social media platforms.
For print copies, email the National Indian Council on Aging or call 505-292-2001.