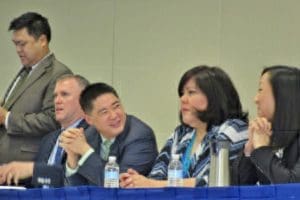 During the forthcoming 2017 American Society on Aging – Aging in America Conference, NICOA will present on key aging issues facing American Indian and Alaska Native Elders.
The conference, taking place in Chicago March 20th to the 24th, features hundreds of educational sessions, networking, keynote speakers, and an exhibit hall featuring the latest products and services for older adults. It is a great opportunity to cultivate leadership, advance knowledge, and strengthen the skills of those who work with, and on behalf of, older adults. NICOA will also be presenting with our partners, the Diverse Elders Coalition. The following is a complete list of Diverse-Elders-Coalition-Presentations-List_ASA_2017.pdf.
Below are the dates, times, and descriptions of presentations NICOA will be making at the conference:
Tuesday, March 21, from 3:00pm to 4:00pm, Susan Chapman, NICOA Senior Community Service Employment Program (SCSEP) Director, will present "Job Training Programs for Older Adults: Helping Diverse Elders Find Meaningful Employment". This workshop will include member organizations of the Diverse Elders Coalition offer job training programs for the older adults they serve. This discussion will share success stories from the federally funded SCSEP program, as well as privately funded job training programs like SAGEWorks, and will highlight the many ways that job training programs are improving lives for elders of color, LGBT elders and American Indian/Alaska Native elders.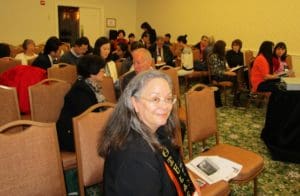 Tuesday, March 21, from 1:30pm to 2:30pm Rebecca Owl Morgan, NICOA Elder Equity Project Coordinator, and Randella Bluehouse, NICOA Executive Director, will be presenting "The Power of Storytelling to Engage, Educate, and Energize". Digital storytelling is an effective tool for empowering your community, attracting potential donors, and educating policymakers and stakeholders. Learn how the National Indian Council on Aging used storytelling to give voice to their Elder members' concerns and shared those concerns with the aging network.
Wednesday, March 22, from 9:00am to 10:30am, Randella Bluehouse, NICOA Executive Director, along with representatives from The Elder Equity Consortium (NAPCA, NAPPM, NCBA, NICOA, and SAGE), will present on the topic of "Cultivating Strengths in Aging Communities". The Elder Equity Consortium brings a thorough knowledge of the unique needs and concerns of each population they serve. Their diverse perspectives offer an inclusive vision of both the strengths and disparities of each community, while creating solutions and advocacy focused on elders. This interactive session will provide an opportunity to share insights and techniques about effective outreach and meaningful involvement with a person-centered approach.
Thursday, March 23 from 9:00am to 10:30am Ms. Bluehouse will be a panelist in "Civic Engagement: Helping Diverse Elders Find Their Political Voices". In 2016, the Diverse Elders Coalition launched a partnership with Caring Across Generations to amplify the voices of American Indian/Alaska Native elders, Asian American and Pacific Islander elders, Hispanic elders and LGBT elders across the United States. This panel of leaders from diverse aging organizations will discuss the campaign's strategy and its results and offer guidance for other organizations and individuals looking to amplify the voices of elders in their communities.
Thursday, March 23 from 1:00pm to 4:00pm, Ms. Bluehouse will be a keynote presenter on the national forum "2017 Diversity Summit Inequality Matters: Focus on Older Adult Homelessness".
Building upon the dialogue generated from the successful 2016 Diversity Summit: Inequality Matters, based on the exemplary paper "Inequality Matters" by Prudence L. Carter and Sean F. Reardon of Stanford University, this year's summit will continue to utilize the four key domains of inequality (socioeconomic, health, political, and sociocultural) to examine more deeply the growing issue of older adult homelessness.
Given the complexity and intersectionality of the issue of older adult homelessness, ASA has brought together leaders from its Network on Multicultural Aging (NOMA), LGBT Aging Issues Network (LAIN), Network on Environments, Services and Technologies (NEST), and Diversity & Inclusion Committee in addition to a panel of esteemed presenters to explore older adult homelessness through the lens of diversity and inclusion. This lens includes exploration of risk factors, vulnerabilities, accessibility, and successful innovative programs and advocacy efforts. Special focus for the 2017 Summit will be on older veterans, indigenous elders, older persons with disabilities, and older women.