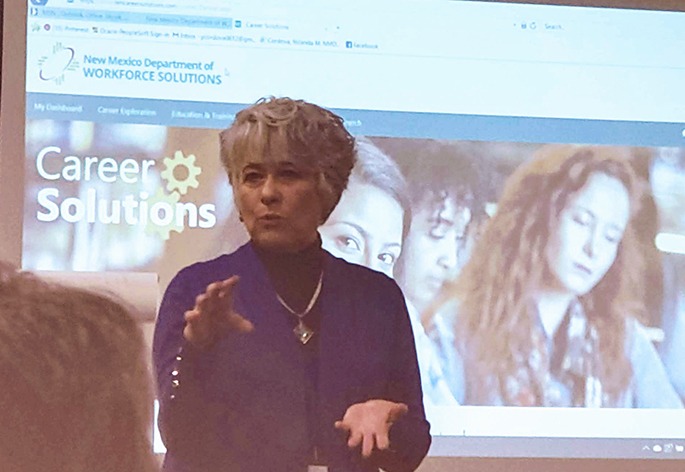 Sue Chapman, director of the National Indian Council on Aging's Senior Community Service Employment Program, recently attended the NM Native American Summit at the Indian Pueblo Cultural Center in Albuquerque, New Mexico. The summit was held by the New Mexico Department of Workforce Solutions (NMDWS).
NMDWS Deputy Secretary Yolanda Montoya-Cordova (pictured) began the meeting that was then facilitated by NMDWS Training Manager Lynne Throop. The purpose of the meeting was to improve and enhance coordination and collaboration with Workforce Innovation and Opportunity Act tribal programs and state workforce development programs.
We are hopeful that this effort will result in the leveraging and sharing of expertise, thereby enhancing statewide awareness of the workforce needs of our American Indian citizens, as well as focus on ways to improve collaborated workforce outcomes for our communities.
Several tribal representatives were present for the event, and it didn't take long for everyone to start sharing ideas and resources. NICOA's SCSEP Director Sue Chapman encouraged these collaborations to continue to share information and resources, and to bring others that all agencies could utilize.
Further meetings are being scheduled to reunite the group.