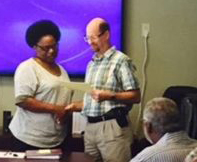 "When I applied to this program I felt defeated. The job hunting process had changed so much from the earlier years.
Beginning with my very first host site to the last one, the things I learned were invaluable. The National Indian Council on Aging's (NICOA) Senior Community Service Employment Program (SCSEP) teaches self-worth for the aging population that still wants to work. The staff will listen to your concerns and guide you in the best direction.
They provide workshops and interview techniques along with the on-site training to better prepare you to re-enter the workforce. NICOA's SCSEP is a confidence builder. It teaches you that you can still step out and succeed at 55 or older.
I am now employed full-time thanks to this program. If you have barriers to employment, start here for help in overcoming them and succeed in your job search."