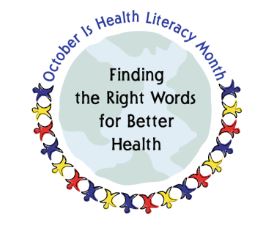 This article is from the Health Tradition with the Mayo Clinic Health System. Visit https://www.healthtradition.com/october-is-health-literacy-month/ for further information.
"Health Literacy" is the ability to read, understand and act upon health information. A significant gap exists between the way health care issues are communicated and the ability of most people to understand them.
All people, and not just those with limited reading skills or people for whom English is a second language, are affected by limited health literacy. According to the National Action Plan to Improve Health Literacy, nearly 9 out of 10 adults have difficulty using routine health information.
When people struggle with understanding how to prevent and manage health conditions, they are more likely to skip necessary medical tests, have a harder time with their diabetes or high blood pressure, and visit the emergency room more often. They also tend to make mistakes with their mediations, and fail to understand nutrition labels.
The good news is that health care facilities are trying to improve. One of the resource used is the National Action Plan to Improve Health Literacy. This plan as well as others have given health care providers several tools to better deliver their messages to patients. They include simplifying written materials, using video or other ways to teach patients, and tips to help doctors speak more clearly with patients.
There are also several things that you can do to improve your understanding of health related information:
Improve communication with your doctors and other health professionals. Before you leave for your appointment, make a list of your symptoms and whey they started. Bring a list of current medications, write down your questions, and bring paper to take notes. Ask your doctor, nurse of pharmacist to use familiar language and write down their information. Ask questions if something is not clear. Let the health care person know if what they are telling you is confusing. Ask for written materials in plan language. Make sure you know whom to call with any questions you may have after you get home.
Take action within your community. Ask your librarian how to find clearly written and relevant health information. Take classes offered by librarians on Internet and social media tools. Attend health education programs at your public or hospital library, community centers, or faith-based organizations. Request these programs if they aren't offered.
Check out these websites for further information:
http://www.healthliteracymonth.org/
http://nnlm.gov/outreach/consumer/hlthlit.html
http://www.health.gov/communication/HLActionPlan/pdf/Health_Literacy_Action_Plan.pdf