The Eastern Band of Cherokee Indians is a federally recognized Indian tribe located in western North Carolina. They are descended primarily from about 800 Cherokee living along the remote Oconaluftee River who were not forcibly subjected to the Trail of Tears to Indian Territory (now Oklahoma). They remained in the Eastern United States after the U.S. military, under the Indian Removal Act, moved the other 15,000 Cherokee to west of the Mississippi River in the late 1830s.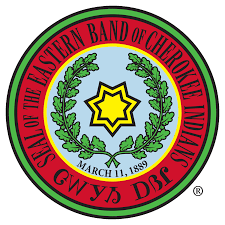 The Reservation is composed of 57,000 acres known as the Qualla Boundary. Cherokee people do not live on a reservation. Instead, in the 1800's, tribal members purchased 57,000 acres of property. This land, called the Qualla Boundary, is owned by the Eastern Band of Cherokee Indians and kept in trust by the federal government. Qualla Boundary encompasses untouched mountains, rivers, and forests and is located next to the Great Smoky Mountains National Park.
The Eastern Band of Cherokee Indians has a total of 14,000 tribal members. According to the U.S. Census, the population of the reservation is approximately 9,600 people, and is 77 percent Indian and 23 percent non-Indian.
In the early 1800's, the Cherokee adapted the tribal governing structure to include a written constitution. Cherokee courts and schools were established and, in 1821, a Cherokee scholar named Sequoyah invented a written Cherokee language. In 1828, just seven years later, a Cherokee language newspaper began publishing. Today, Cherokee schools teach the Cherokee language. In fact, the New Kituwah Language Academy teaches only in the Cherokee language.
The Eastern Band of Cherokee Indians maintains a court system comprised of trial courts and a Supreme Court. All government officials are elected using a democratic voting system. Voter turnout for the last major election was 70 percent. Tribal members are also allowed to vote in state and national elections. The tribe financially pays for schools, water, sewer, fire, and emergency services without assistance from the federal government.
The tribe earns revenue from a combination of federal and state funds, tourism, as well as the Harrah's Cherokee Casino, established in the early 1990s. The gaming revenue is directed at economic development, as well as tribal welfare and support of cultural initiatives, such as the language immersion program and development of historic preservation programs.
The tribe has a Domestic Violence Program, including the Ernestine Walkingstick Domestic Violence Shelter, which provides the following services: victim advocacy, legal assistance, court accompaniment, transportation assistance, emergency shelter services 24/7, relocation services, crisis counseling, prevention education, and outreach activities.