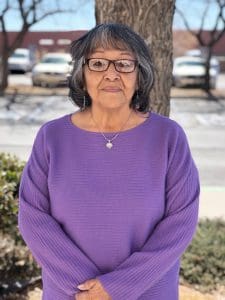 Board Member Lucia Trujillo resides in Sandia Pueblo, New Mexico, and manages the Southwest region. She decided to join the National Indian Council on Aging's (NICOA) board of directors in 2011. As she was nearing retirement, she found she had a lot of questions about benefits and senior health issues. After becoming more familiar with NICOA and its mission, Lucia felt that becoming a board member would help her stay apprised of the issues facing American Indian elders as well as give her the opportunity to speak about their needs and advocate for change.
She believes that the political and social treatment of Native elders has improved over the last 20 years — "to some degree," she says. "Some state and local governments have become more concerned, but unfortunately politics will continue to play a major role in funding."
In her eight years of experience, one of the most pressing issues facing Indian Country is its long-term care, which is minimal, she says.
"There's a dire need for our congressional leaders to get more funding for caregivers because of the growing population of elders. It really takes the right kind of person to be a caregiver," says Lucia. "Finding a compassionate person to care for our elders is difficult without proper training and education. This is why funding is so critical. Some tribes are having a hard time getting that funding. Here in Sandia [Pueblo] we are very fortune to have a caregiving program."
Lucia's term on NICOA's board of directors originally ended in 2018, but her Southwest region members requested she stay. In the future she hopes to find a replacement who can continue to advocate for the increasing needs of Indian Country.
Lucia says she's proud to be part of an organization that serves Native elders. She's played a major role in guiding NICOA in the right direction these past eight years, as well as keeping the organization open to continue its advocacy.
"We have a lot of good board members who care a lot and I'm proud to be a part of that," she says.