The Quinault Indian Nation is a federally recognized tribe of Quinault and Queets tribes and the descendants of five other coastal tribes: Quileute, Hoh, Chehalis, Chinook, and Cowlitz. They are a Southwestern Coast Salish people of Indigenous peoples of the Pacific Northwest Coast.
The Quinault Indian Nation is located on the Pacific coast of the Olympic Peninsula in Washington state, and spans over 208,150 acres. It is bordered by the Olympic National Park to the northwest. The three largest rivers on the reservation are the Quinault, the Queets, and the Raft. The Quinault Indian Nation owns Lake Quinault.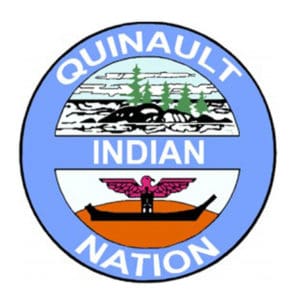 The Quinault Indian Nation is headquartered in Taholah, Washington. The Quinault Reservation was founded in 1855 with the signing of the Treaty of Olympia (also known as the Quinault River Treaty) with the U.S.
It is a sovereign nation with the inherent right to govern itself and deal with other tribes and nations on a government-to-government basis. They ratified their bylaws in 1922 and their constitution in 1975. The tribe is governed by an 11-member Tribal Council, which is democratically elected by the adult tribal membership at regular annual meetings.
The Quinault Indian Nation owns Quinault Pride Seafood, Land, and Timber Enterprises, and the Mercantile in Taholah, Washington. They run their own internal facilities and are one of the largest employers in Grays Harbor County.
In 2016, around 2,500 landowners with interests in the Quinault Reservation were offered $70 million by the U.S. Department of Interior as part of its Native Lands Buy-Back Program as part of the settlement of the Cobell v. Salazar class-action suit. The land purchased was put into trust for the tribe. Around 1.5 million acres has been restored to tribes under this program.