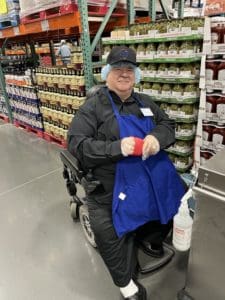 Juan Rico joined the National Indian Council on Aging's (NICOA) Senior Community Service Employment Program (SCSEP) to help him get back into the workforce. He trained as a cashier with a wonderful host agency called 2nd Chances Thrift Store in Bismarck, North Dakota.
He has a great attitude and they loved him there. He even overcame his mobility barriers. He has a wonderful personality and would sometimes sing to his customers. With the assistance of a NICOA employee, he was able to apply for permanent positions and interview.
Juan was able to find employment with a food vendor at Costco and has been happily serving customers food samples and singing ever since. His new employer was even willing to accommodate his mobility issues. He is a true SCSEP success story.