by Rebecca Owl Morgan, Elder Equity Project Coordinator, NICOA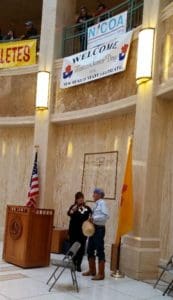 The New Mexico Legislature meets every year in January. During that time the legislators hold an open house where they invite elders and those who work with elders to visit them for a one-day event. This community event is a great place to learn about New Mexico resources available for elders. It is also a chance for elders to educate policy makers about the impact they are having on them with their decisions.
It has become a tradition for NICOA to participate in the Senior Day at the Roundhouse event during this lively time. The New Mexico State Capitol earned the Roundhouse nickname because it was designed in the shape of the Zia sun symbol. This dynamic structure references elements of traditional Native and Mexican architecture. The Roundhouse is filled with artwork created by New Mexico artists and is a good stop for any visitor to Santa Fe. Link to walking tour: https://www.nmlegis.gov/Publications/Visitors/BrochureEnglish.pdf
Various aging network organizations, nonprofits and other groups set up tables in the rotunda filled with educational materials, healthy snacks and helpful people eager to explain how they can provide assistance to New Mexico's elders. NICOA was joined by the New Mexico Indian Area Agency on Aging, the Navajo Area Agency on Aging (the Navajo Nation boundaries extend into New Mexico) and many others. The goal of the event is to provide education and outreach to the citizens of New Mexico about services available to them. Friendly conversation and interaction can provide important information which can make a difference in an elder's life. Another benefit for NICOA is the chance to learn more about the other organizations in New Mexico and collect those contacts for use when requests come in that require a referral.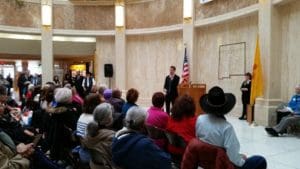 Various speakers addressed the attendees on topics of importance to elders. Speakers, singers and the stretching/energizing session help to buoy the crowd as they exited into the beautiful, panoramic mountains of New Mexico.